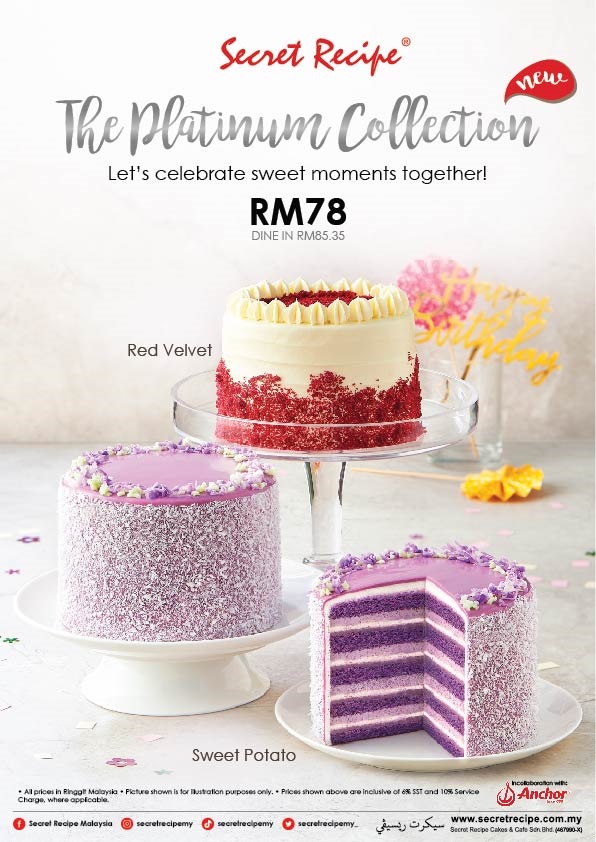 Big on flavour in every bite, the Red Velvet and Sweet Potato creations aim to please!
PETALING JAYA, 20 February 2023 – Secret Recipe, the brand that has etched its way into the hearts and taste buds of Malaysians for decades with a diverse range of cakes and top-quality gourmet selections, has just revealed two new delectable flavours in its Platinum Collection of cakes. Featuring smaller sizes, the Platinum Collection offer cakes with enriched flavours, catered for more intimate celebrations.
The two new flavours include the ever-popular Red Velvet, previously available only in Secret Recipe's Signature Collection; and Sweet Potato, an entirely new offering created by Secret Recipe for its Platinum Collection. 
Having been a staple choice in the Signature Collection, Secret Recipe's rendition of the globally iconic Red Velvet is now available in its Platinum Collection as well, boasting 500 grams of cheesylicious flavour, with refreshing hints of apricot. Beautifully paired, the cream cheese and apricot duo work together to create a fluffy bite which makes it an indulging and delightful choice, especially after a meal. 
Meanwhile, the Sweet Potato cake makes an unprecedented debut at Secret Recipe, pushing the boundaries in both culinary creativity and taste. Weighing slightly heavier than the Red Velvet at 680 grams, the Sweet Potato cake features a creamy yet fluffy taste of sweet potato, complemented by the addition of purple sponge, cream cheese, coconut and white chocolate couverture into the blend for an alluringly enticing treat for the senses. 
"We are truly thrilled to introduce these two new flavours in our Platinum Collection of cakes. The smaller size of these cakes has allowed us to experiment with different flavour and texture profiles to create a dessert that's just packed with taste to delight our customers. This is part of our commitment to excellence by raising the bar and exceeding limits beyond the ordinary," said Evelyn Lee, Head of Marketing at Secret Recipe. 

"This is an ongoing process for us to evolve with the times and tastes of our customers. We hope to increasingly announce new products on the menu, to pamper our customers with the different local flavours. Make sure you download our Secret Recipe MY app to keep up to speed on our latest offerings," she added. 
The Red Velvet and Sweet Potato cakes will be available as whole cakes in Secret Recipe's Platinum Collection in all Secret Recipe stores throughout Peninsular Malaysia. Both cakes are priced at RM78 (take-away) and RM85.35 (dine-in).
Having made its debut in 1997, Secret Recipe is a true Malaysian success story. Over the years, the brand has grown to become one of the fastest-growing lifestyle cakes and café chains in the region, with outlets opening even outside of Malaysia's borders in Singapore, Thailand, Brunei, Maldives, USA, Australia, Vietnam and Bangladesh. Today, the multi-award-winning brand is a hallmark name for celebrations of just about any kind, anytime and anywhere with a growing network of outlets around the region.
Just recently, Secret Recipe kicked off 2023 by marking a significant milestone in its history, as it celebrated the opening of its 350th outlet in 1 Utama, with plans to increase this number to more than 400 by the end of 2025.
With modern contemporary and vibrant concepts, Secret Recipe outlets have been a choice destination for customers who simply want a comfortable ambience in which to enjoy good food and quality time with friends, family and associates. The uncompromised quality of food and ingredients – at affordable prices – has essentially created a cult following amongst Secret Recipe's loyal base of food and cake lovers everywhere.