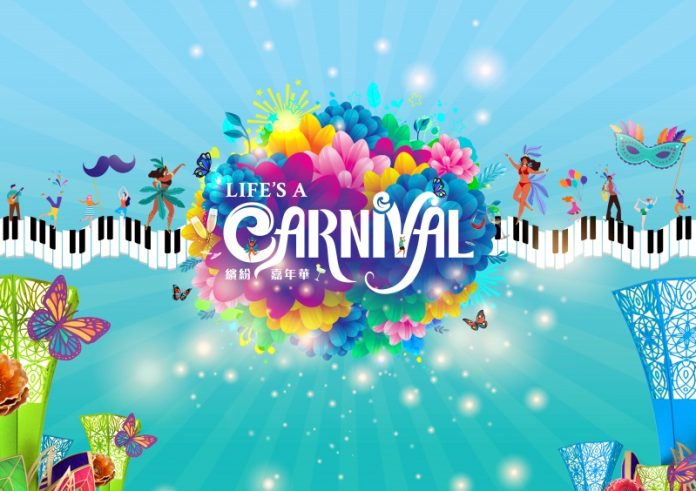 Regala Skycity Hotel kicks off its inaugural carnival celebration – a 5-week festival packed with  music, dance and international delicacies – for guests to celebrate the vitality of life
(28 April 2023 – Hong Kong) With flowers blooming all around, Regala Skycity Hotel is 'springing' into action to celebrate the blissful season with their inaugural annual festival. Starting today, this 5-week celebration, themed "Life's a Carnival" will be taking place at the Hotel and presents an array of interactive activities, performances and workshops for guests to experience the jubilance. To double up the excitement, visitors can also enjoy their time at Regala Skycity Hotel with limited time offerings and a collection of scrumptious international delicacies. The Hotel will also be  
offering a series of upcoming thrilling celebrations, where guests can expect throughout the year! 
Launching the first carnival to celebrate the vitality of life 
Regala Skycity Hotel is not just a stop-by or short-term accommodation for travellers and families,  it is also the perfect sanctuary for urban city dwellers to escape and rejuvenate themselves by participating in the dynamic parties and celebrations hosted at the Hotel. In line with this, the  "Life's a Carnival" festival is the first in a series of trendsetting celebrative programmes that will be hosted throughout the year.
The carnival theme of the festival highlights that life consists of little moments that symbolise significant remarks of vitality, which should be celebrated with enjoyment. To further immerse all guests into the vividness of life, combined with the joyous spirit of spring, the hotel entrance has been transformed into a picturesque botanical garden – featuring gigantic blossoming flowers with wide-spreading tree pillars and leaves as decoration. A mesmerising Instagram-worthy butterfly installation is also showcased in the lobby, where guests can be revitalised by the splash of colour and vitality brought by them.
Grand Gala Dinner to lead off the massive festival programme  
To embark on this massive festival programme with a major celebrative occasion, Regala Skycity  Hotel successfully held its deluxe gala dinner on April 27, with the theme of "Regenerate, Revive,  Rejoice". Distinguished guests and VIPs from all over the world attended the evening to enjoy a feast specially curated by the Hotel's acclaimed culinary team, featuring an avant-garde low  carbon menu that incorporated dishes with local ingredients and sustainable seafood. The theme  of the gala dinner echoed with the Hotel's sustainability endeavours to minimise the environmental  impact. The Hotel itself is accredited by various green awards and certifications, including the  Silver EarthCheck Certification and the Beam Plus Gold Certification. 
As part of the gala dinner program, guests were guided through a mindful meditation, to provide  a sense of true relaxation and practise mindful eating. Furthermore, to renew Regala's commitment to sustainable practices, all guests were invited to take a pledge for the environment and take a snapshot while doing so. The photos will be used to create a collective photo mosaic  art piece with the most nationalities of participants, which will be utilised to apply for the Guinness  World Records afterwards. With the final number of participants, the Hotel will make a  corresponding amount of donation to support the local tree planting campaign.
Unexpected offerings to reveal diverse and fun experiences 
Regala Skycity Hotel aims to get all guests hyped and uplift their spirits throughout the process  of celebrating with sensations unseen. In keeping with the concept of "Rejoice at Regala", the  Hotel has prepared a series of enticing workshops to extend the joy to all guests, ranging from Samba dance, yoga, wine tasting, mocktail mixology to flower piping, and more. Regala  'staycationers' can also enjoy access to selected complimentary workshops during the carnival  period, with savoury gourmet experiences included in their deluxe packages. Guests visiting the  Hotel to enjoy the delicacies are also invited to join discounted workshops, where they can fully  relax, recharge and rediscover themselves in their preferred way with no boundaries. 
To enliven the festival with a new level of excitement, complimentary Samba and big piano performances by talented dancers will be staged at the lobby, to welcome all visiting guests into  a world of whimsy. Throughout the carnival period, nature and carnival-themed souvenirs will also  be available for sale at the Carnival Experience Zone at the Hotel, where guests can take a break from the rigid urban environment, and devote themselves to this celebration party while  expressing their own individuality. Additionally, an appealing photo corner and DIY art and craft table are also set up in the lobby, for guests to capture their memorable moments via photography  sessions by professional photographers, and letting their creativity flow with their beloved and  friends! Visit the website to check out the full workshops timetable. 
To lighten up the spirits of all guests and indulge their taste buds with amazing flavours, Regala Skycity Hotel has also introduced a series of special menus as part of celebration. Guests can  also sign up for 360 Lantau heritage tour, natured guided tour and safari tour, where they can  physically celebrate nature in a serene relaxing ambience, leading them to discover their own  natural rhythm.
Elevate the enchantment of Regala with time-limited packages  
To elevate the enchantment of "Life's a Carnival", Regala Skycity Hotel is offering a list of time limited valuable packages. From now until May 28, guests can now join the celebration at Regala  Skycity Hotel, with a selection of staycation packages, starting from HK$1,890 up per room per  night, breakfast and dinner inclusive for 2 adults. Furthermore, guests will be eligible to participate  in complimentary wine tasting, or sky deck stretch yoga workshop for reserving seaview rooms.  Guests who reserve deluxe and themed suites within the period, will also be eligible to participate  in 2 to 3 selected complimentary workshops. 
All guests who have booked "Life's a Carnival" staycation packages during the period will also  be entitled to enjoy additional privileges, including priority pass for participating in Carnival  Experience Zone, photo-taking with performers, complimentary welcome drinks, daily breakfast  and use of game room, and more.  
Celebrate the joy of spring by joining the hottest carnival in town! 
For more details, please visit the official website.