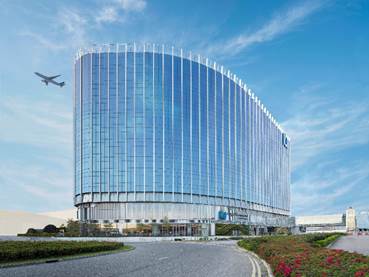 Regala Skycity Hotel celebrates the vitality of life by balancing world-class hospitality with  harmonious experiences that allow guests to rejoice, relax and recharge
(1 February 2023 – Hong Kong) Regal Hotels International has launched Regala Hotels – a new  and vibrant hospitality brand that provides a place for celebration and harmonious living. The first  opening is Regala Skycity Hotel located at Hong Kong's new SKYCITY hub. Boasting over 1,200  guest rooms, three diverse restaurants serving cuisines from around the globe, a beautifully  designed grand ballroom and two banquet halls perfect for weddings and conventions, state-of the-art wellness facilities, children's entertainment spaces, games rooms and more, Regala  Skycity Hotel is a unique hospitality destination where people can celebrate the vitality of life. The  hotel has recently received green awards including the Silver EarthCheck Certification and the  Beam Plus Gold Certification. 
Opening offer to experience the jubilant lifestyle of Regala 
To celebrate the hotel's official opening, Regala Skycity Hotel is offering an 8% discount on all  room packages booked via the official website before 31 March 2023. 
From now until 28 February 2023, guests who book via the official website and stay in the Deluxe  Suite – priced at HK$2,500 per night – are eligible to receive the same amount of dining credits  for spending at hotel's restaurants.  
Conveniently located around the transportation hub to Greater Bay Area and rest of the  world  
Situated in the dynamic and exciting SKYCITY – a captivating new retail, dining and entertainment  destination opening this year next to Hong Kong International Airport – Regala Skycity Hotel is  conveniently positioned for those looking to explore Hong Kong, Macau and Shenzhen, or attend  world-class events in the region. The hotel is directly connected to AsiaWorld-Expo and 11 SKIES  with 2 minutes' walk via the enclosed footbridge, and is just a short ride away from Hong Kong  International Airport via the Airport Express or the hotel's free shuttle bus. Guests will be able to  reach Hong Kong's Central District in less than half an hour aboard the Airport Express, the much loved Hong Kong Disneyland in 15 minutes via taxi, and easily travel throughout the Greater Bay  Area as The Hong Kong-Zhuhai-Macau Bridge and Tuen Mun-Chek Lap Kok Link are only a few  minutes away by car.
A dynamic place for an unforgettable stay
The carefully designed Regala Skycity Hotel incorporates the Chinese philosophy of Wu Xing,  translated as "the five elements". By integrating water, earth, wood, fire and metal throughout the  hotel's various spaces, Regala Skycity Hotel has a distinctly unique atmosphere that is elevated  by its natural surroundings. This ensures a harmonious balance throughout the hotel, allowing guests to truly relax and rejuvenate their hearts, minds, bodies and souls.
With 1,208 guest rooms, 90 of which are suites, Regala Skycity Hotel has the largest number of guest rooms on Hong Kong's Lantau Island. All rooms are designed with a modern simplicity that  exudes a vibrant and contemporary aesthetic while prioritising endorphin-boosting natural  sunlight. Guests will be delighted with an exceptional view overlooking the bustling SKYCITY,  tranquil gardens or picturesque South China Sea. Families can treat little ones to a memorable  experience in one of the themed rooms located on the third floor, with themes like Racing Car,  Frozen Castle, Pirates, Under the Sea, Brick & Block, and Jungle & Safari. There are cabana  rooms with patios available for those looking to host a gathering or BBQ party. All rooms are  equipped with double-glazed windows, Wi-Fi, a telephone, international TV channels, a hair dryer, tea and coffee-making facilities, a mini-fridge and an in-room safe.

The hotel presents a myriad of experiences for all types of travellers. One of the most picturesque highlights can be found on the beautifully landscaped rooftop Sky Deck with panoramic views of  Lantau and wellness facilities such as a Sky Gym, Jogging Track and Organic Farm are just waiting to be explored. The Sky Deck also features a cocktail bar, ideal for a drink whilst soaking  in a spectacular sunset or watching planes taking off and landing. The rooftop space also lends  itself perfectly to late-night stargazing – a must-do when staying at the hotel. Sure to provide fun  for the whole family, there are five different game rooms throughout the hotel, including an arcade  with video game challenges, ball games and virtual experiences. To further encourage healthy  and harmonious living, guests are encouraged to take advantage of the outdoor swimming pool,  self-guided driving and hiking tours, and tailor-made yoga and meditation activities. 
Being a destination for celebration, Regala Skycity Hotel will present an exciting Annual Festival  Programme. 2023 will see international talent and entertainers convene at the hotel to immerse  guests and visitors in spectacular celebrations and events. 
Three trendsetting restaurants offering diverse gastronomic experiences
The hotel presents diverse dining options via its three trendsetting and stylish restaurants.  Featuring designs based on coastal lines, sedimentary rocks and calming blues, the spacious all day dining restaurant Petra brings diners closer to nature. Adorned with interactive and mesmerising live cooking stations, the restaurant serves international cuisine through a  contactless ordering system, ranging from authentic South Asian fare to exotic Indian curries,  Japanese delicacies and more. Vivace is an energetic bar and grill that takes guests on an  unforgettable Mediterranean culinary voyage set amongst a Spanish-inspired scene of colourful  stained glass and Iberian ceramic tiles. Recognised for its impeccable interior designed by  Alexander Wong, the vibrant restaurant picked up a silver award for outstanding interior design  at the Build4Asia Awards 2022. Welcoming guests with a convivial and lively ambience, the  restaurant serves up flavoursome and hearty dishes from Mediterranean hotspots including Spain, Italy, France and Greece. With a robust and tempting cocktail menu and outdoor patio,  Vivace is the perfect spot for alfresco dining and drinks. Chinese restaurant, the Jade, presents  exquisite delicacies in a plush environment enhanced by artistic features and breathtaking sea  views. As a true representation of Chinese culinary fare, the Jade brings together China's dynamic  regional cuisine ranging from Canton, Beijing, Zhejiang, Sichuan and more. Private dining spaces  are available to elevate any gathering or occasion. 
Healthy food is available 24/7 to support guest wellbeing. With farm-to-table and vegan menus,  harmonious living is made possible with easily accessible healthy dishes and meals.
Flexible and tech-savvy function spaces with impressive interior design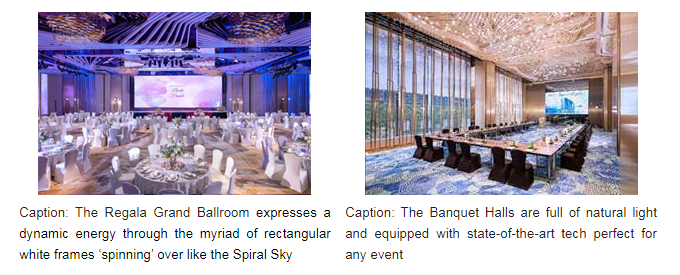 Regala Skycity Hotel is the perfect venue to celebrate every occasion, from weddings and meetings to large-scale events. Designed by the Hong Kong based award-winning architect and interior designer Alexander Wong, the hotel offers two Banquet Halls and the Regala Grand Ballroom, which is one of the biggest ballrooms in Lantau.
With over 2,800 square metres of space and an impressive 6.7-metre ceiling height, the Regala Grand Ballroom expresses a dynamic energy through the myriad of rectangular white frames 'spinning' over like the Spiral Sky. The unique ceiling design creates a special lighting experience, complemented with a shoal of auspicious crystal chandeliers and giant pillars that also function as an LED display.
Designed to rekindle a sense of wonderment for the natural elements, streams of sunlight in the Banquet Halls create an enchanting vision of ocean waves or flying clouds during the day and an interstellar effect at night with a series of star-like chandeliers. 
The function spaces are equipped with state-of-the-art technology featuring synchronised AV systems, six built-in LED walls and six vertical LED panels.
There are also several unique outdoor venues, such as the Sky Deck and Terrace on the 5th, with breathtaking views making for excellent photo opportunities, positioning the hotel as an ideal venue for celebrations, weddings or MICE events.
To find out more about Regala Skycity Hotel and promotions, please visit skycity.regala-hotels.com.