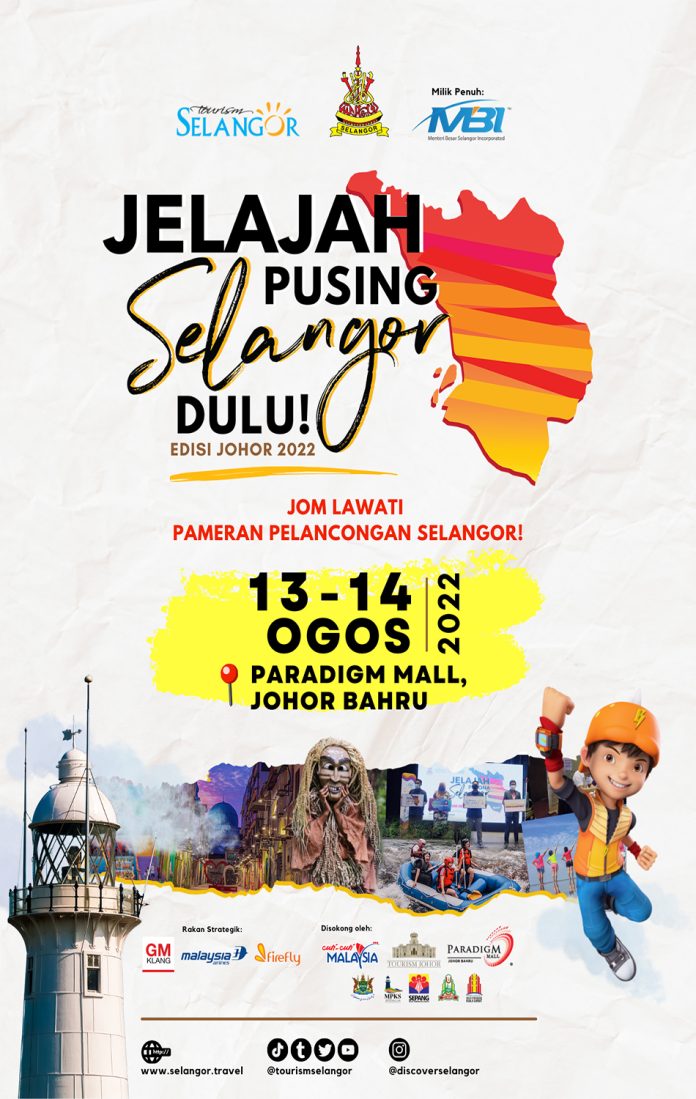 SHAH ALAM – The Selangor State Government, through its official tourism promotion agency, Tourism Selangor, continued its initiative in organising the 'Pusing Selangor Dulu' Tour to the State of Johor in 2022 as a promotional campaign for the domestic market. This tour programme will begin a series of tours in 2022, with the first stop in the state of Johor at Paradigm Mall Johor Bahru on August 13 and 14, 2022. This tour programme is also expected to attract 50,000 people from Johor and Singapore to attend the event.
Tourism Selangor has introduced similar programmes in several states like as Kedah, Johor, Perak, and Terengganu in 2019 and 2020, which was previously known as the 'Persona Selangor' Tour. Tourism Selangor took the initiative in 2022 to re-intensify domestic tourism promotion operations in tandem with the 'Pusing Selangor Dulu' campaign. The 'Pusing Selangor Dulu' tourism promotion is intended to promote local tourism, particularly in Southern Peninsular Malaysia.
In a statement, Mr. Azrul Shah Mohamad, Chief Executive Officer of Tourism Selangor, said: "This 'Pusing Selangor Dulu'-Johor 2022 Tour is more focused on the domestic tourism market in the State of Johor, which recorded the highest number of tourists arriving in the State of Selangor in 2021, when Control Order phase Movement (MCO) 3.0 was implemented."
"In previous years, this programme has received a very positive response since it encouraged the tourism products of the State of Selangor to showcase and promote their products by selling them directly to the public. Therefore, this programme can boost the income of the tourism industry and promote the tourism industry in Selangor. This year's tour mission in the state of Johor will consist of two parts: a Business to Business (B2B) session with travel agencies in Johor and Singapore on August 12, Business to Customer (B2C) session on August 13 and 14, at Paradigm Mall Johor Bahru and Government to Government (G2G) session on August 14." He added.
Tourism Selangor also established a joint venture with Malaysia Airlines and Gamuda GM Klang as strategic partners for this next tour series. Malaysia Airlines collaborates with Tourism Selangor through the platform and application 'Journify' (https://myjournify.com), and GM Klang collaborates with Tourism Selangor to build its brand as the largest wholesale mall in Asia.
Five Local Authorities (PBT) from the State of Selangor, namely the Hulu Selangor Municipal Council, Sepang Municipal Council, Kuala Selangor Municipal Council, Kuala Langat Municipal Council, and Klang Municipal Council, will participate in the tourism exhibition booth.
More than 15 tourism operators and products, including Malaysia Airlines, GM Klang, Jumpstreet Malaysia, Chocolate Museum @ Kota Damansara, Selangor Fruit Valley, Farm in the Field, HL Restaurant & Café, Sky Mirror, Avani Sepang, Homestay Banghuris, Le Meridien Petaling Jaya, Park Inn by Radisson, The Blanket Hotels, and Eastin Hotel will offer attractive travel packages with promotional discounts of up to 50% for visitors at the exhibition booth.
Among the interesting activities provided to visitors on this series of tours are the promotion of Tourism Selangor's collaboration with Animonsta Studios through BoboiBoy animation; Cultural performances from the Selangor Kembara Anak Seni Organization (PKAS) and the MahMeri Indigenous People; 'Meet & Greet' session with Che Puan Juliana Evans, Pusing Selangor Dulu Campaign Tourism Ambassador; 'Meet & Greet' session with Mat Kilau film actor, Ali Karimi; Demonstration of trampoline jumping by former Malaysian diver Ahmad Amsyar Azman; Cultural performances by the Johor State Arts and Culture Department; Lucky draw session to win an RM5,000.00 tour package to the State of Selangor and many others.