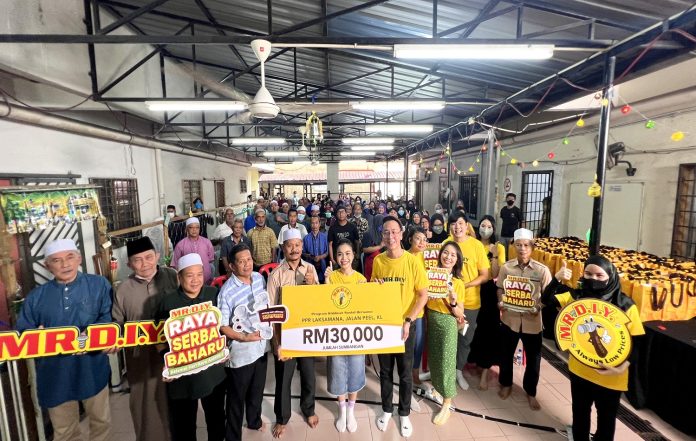 KUALA LUMPUR, 18 April 2023 — Hari Raya Aidilfitri festivities are certainly in the air, especially for more than 300 residents of Program Perumahan Rakyat (PPR) Laksamana, Jalan Peel, Kuala Lumpur.
The PPR has been in the spotlight of late, thanks to a new webfilm by Malaysia's favourite home improvement retailer, MR D.I.Y..
The webfilm, called 'Raya Serba Baharu-Barulah Raya', is set at the PPR and stars two celebrities, Ara Johari and Wani Kayrie, who face-off in a home makeover challenge at the PPR.  The 4-minute webfilm sees each of them decorating a home at the PPR, with the finished home with the most likes on social media winning the competition.  The homes belong to a single mother of seven and a family with disabilities.  The heartwarming film ends with a powerful lesson about remembering to give and lend a helping hand during the festive season.
As a thank you to the PPR residents for participating in the filming of the webfilm, MR D.I.Y mobilised its MR D.I.Y. Cares volunteers to help distribute gift bags filled with household essentials and 'bubur lambuk' to the residents, as well as cash vouchers to do some last-minute Hari Raya shopping. The event also featured a special preview of the 'Raya Serba Baharu-Barulah Raya' webfilm, with celebrity Wani Kayrie in attendance. The webfilm garnered more than 2 million views on MR D.I.Y.'s social media platforms within two days of going live.
Commenting on the initiative MR D.I.Y.'s Group Head of Marketing Alex Goh said, " Our 'Raya Serba Baharu' initiative has been a special journey for all of us at MR D.I.Y.  It didn't just give us an opportunity to share an important message about caring and sharing during this Ramadhan and Hari Raya Aidilfitri season, but it also have us the opportunity to make a difference to the lives of the community at PPR Laksamana.  This has always been an important part of our ethos of adding value to the lives of Malaysians, and we want to thank the PPR community for being active participants in this project.

Commenting on the initiative, Encik Abdul Halim Abdul Aziz, President of Surau PPR Laksamana,  said "Most of the residents here are low-income earners, and this contribution from.MR D.I.Y. is highly appreciated. Thank you MR D.I.Y. for choosing PPR Laksamana to be featured on the webfilm and simultaneously transforming the homes of two of our special residents. Terima Kasih MR D.I.Y.!"
Watch the heartwarming 'Raya Serba Baharu' webfilm on MR D.I.Y.'s official Youtube, Facebook, Instagram, and TikTok platforms. Watch the full version here: https://www.youtube.com/watch?v=TtdC1556DaE.  For more information on MR D.I.Y., visit its website, mrdiy.com, e-commerce platform, mrdiy.com.my, and social media channels, Facebook, Instagram, and TikTok.