KUALA LUMPUR, 25 AUGUST 2022 – As the moon shines bright in the sky this Mid-Autumn Festival, Pavilion REIT Malls are illuminated with a spectacular display of colourful lantern decorations, a fantastic selection of artisan mooncakes, and fun-filled Mid-Autumn activities perfect for the whole family from now until 11 September!
PAVILION KUALA LUMPUR 
Malaysia's premier shopping destination, Pavilion Kuala Lumpur, invites shoppers to celebrate 'Moonlit Mid Autumn', with the largest Mooncake Bazaar in Bukit Bintang at Centre Court. Shoppers are invited to treat themselves to over 100 mooncakes from award-winning brands and five-star hotels.
Festooned with hundreds of colourful festive Chinese lanterns, the 'Moonlit Mid Autumn' Mooncake Bazaar is the place to shop for all your Mid-Autumn essentials. Choose from an exciting variety of stunning mooncakes and gift boxes, from traditional classics such as White Lotus Paste to unique flavuors including Dragonfruit and Cranberry, or Hazelnut Custard Double Yolk. Don't forget to also opt for seasonal sweets, teas and lanterns that make ideal gifts.
This year's Mooncake Bazaar features an impressive line-up from eight renowned 5-star hotels, including Pavilion Hotel's whimsical Moonlight Garden Mooncake Collection; Le Meridien Kuala Lumpur's innovative destination inspired snow skin mooncakes; and EQ Kuala Lumpur's Japanese inspired handcrafted Nerikiri Wagashi mooncakes.
Other notable mooncake vendors include ATW by The Fame's Celestial Lab Mooncakes inspired by the moon; Awfully Chocolate's Classic Baked Mooncakes and Chocolate Truffle Mooncakes range featuring their high-quality chocolates; First Class Durian's indulgent durian snow skin mooncakes; and Mizicor's unique snow skin mooncake flavours.
To immerse themselves in the Mid-Autumn festivities, shoppers are invited to engage in the Lantern Riddle challenge to test their knowledge by solving brain teasers and riddles attached to the hanging lanterns at Centre Court. These not only symbolise happy family reunions, but also good luck and fortune, a tradition that dates as far back as the Northern Song Dynasty.
Catch calligrapher Master Lai Chong Sheong conducting Chinese Brush Painting Demonstrations on paper fans on 3, 4 and 10 September from 2 to 4pm at Centre Court for 100  shoppers a day to bring home personalised artwork this Mid-Autumn Festival.
Shoppers are rewarded with a free lantern with every RM200 spent in a single receipt at any specialty store. Maybank cardholders will be gifted a free Vatiri Tea Cup with every RM500 spent with Maybank cards in a single receipt at any specialty store.
Wondering what mooncake flavour says about your personality? Check out Pavilion KL's interactive Instagram filter to find out! Shoppers are encouraged to post their festive photos and videos at Pavilion KL with hashtags #MoonlitMidAutumn and #PavilionKL and tag @pavilionkualalumpur.
For more information on Pavilion KL's 'Moonlit Mid Autumn' events and promotions, shoppers can visit www.pavilion-kl.com or contact Pavilion Kuala Lumpur's Concierge at 03 2118 8833. Shoppers can also check real-time updates on Pavilion Kuala Lumpur's Facebook page, Twitter page or Instagram account.
DA MEN USJ
Da Men USJ revives legends and folklore, shining the light on cultural traditions with 'Once Upon A Mid-Autumn'. Combining powerful storytelling with beautiful visuals, the festival is brought to life through the colourful decor featuring quirky rabbits and traditional glass lanterns.
Pick up mooncakes and festive delicacies at the Mid-Autumn Bazaar on the Lower Ground Floor until 11 September. Stock up on Mid-Autumn necessities, including Jasmine Mooncake's Tiramisu Choco Lava mooncake, Grand Harbour's Supreme Nuts with Ham, and assorted dragon beard candy and mochi. Look out for specialty teas from Tealicious and sweet treats like Teochew Mooncakes from non-profit NGO Lovely Disabled Home, where proceeds go towards providing training and employment opportunities to those with special needs.
Light up the night at the Lantern Parade on 3 September from 3 to 10pm, with the Subang community including Subang Jaya State Assemblywoman Michelle Ng and MP Wong Chen. Before the walk,  take part in a Mid Autumn Workshop by Global Art, witness a dragon dance to usher in good blessings, grab a bite at the street food bazaar and enjoy performances including magic shows by roving magicians. Snap a photo with beautiful Chang'e Goddess of the Moon, take part in Colouring Competition by Go Noodle House and Global Art and drum to your heart's content at VR Academy's Drumming Workshop.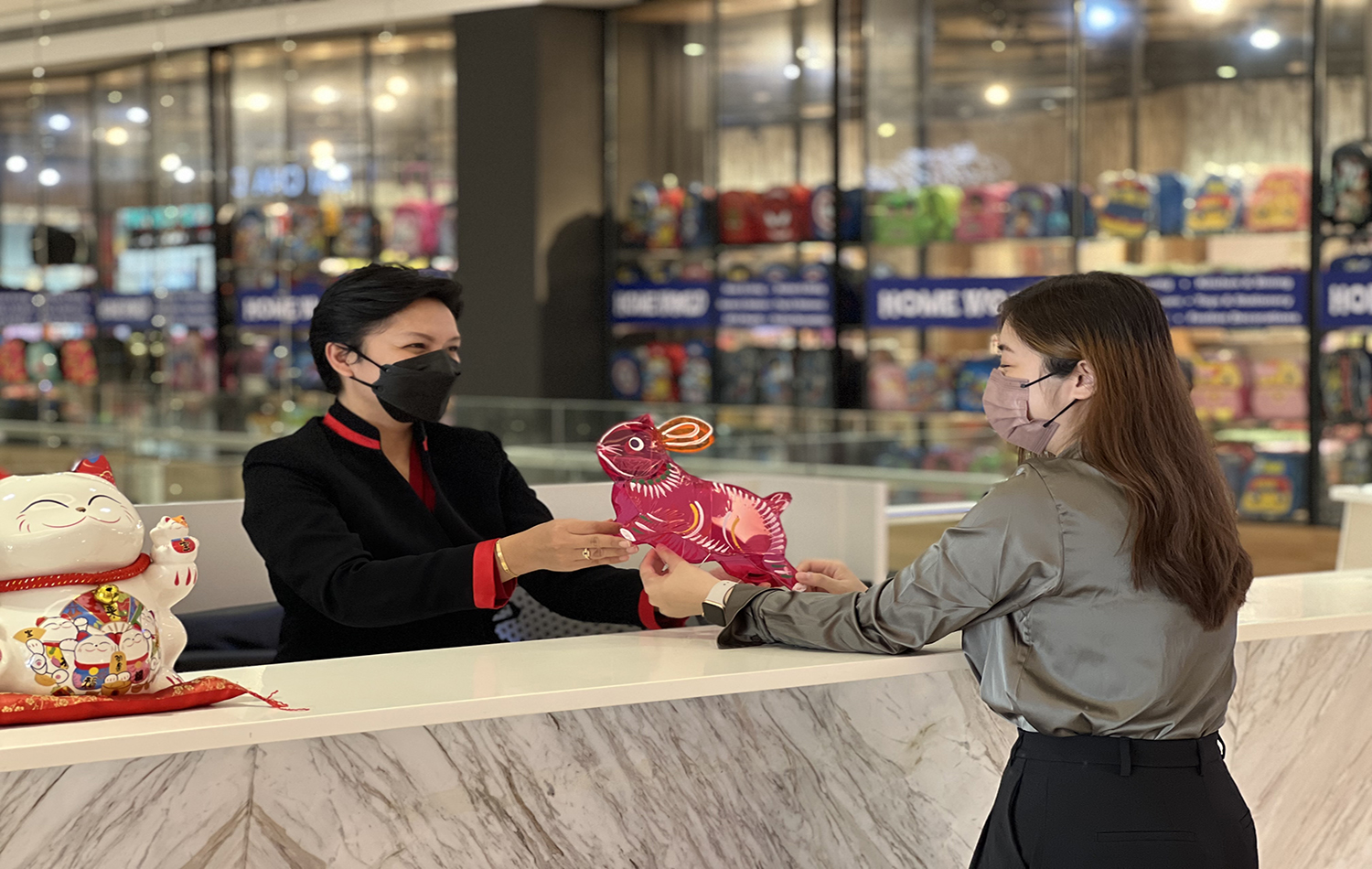 Shoppers may pick their own traditional glass paper lantern with a minimum spend of RM180 in two combined receipts mall-wide. In collaboration with YB Michelle, Da Men USJ will also be gifting 1,000 goodie bags containing halal mooncakes, lanterns, cash vouchers and festive items worth over RM100 on a first-come, first-serve basis to attendees.
For more information on 'Once Upon A Mid-Autumn' activities and promotions, visit www.damen-mall.com, or check for real-time updates via Facebook, Instagram, or contact Customer Service at 03 8021 0222.
INTERMARK MALL
Embark on a journey to the moon with a plethora of mooncake flavours and delicacies at Intermark Mall. For a taste of traditional Chinese-style mooncakes, check out Oriental Restaurant's award-winning Shanghai Style Mooncake and Single Egg Yolk and Yam Paste in Teochew Style Mooncake. Other chef recommended mooncakes include the Creamy Lava Traditional Mooncake and Single Egg Yolk and White Lotus Paste Traditional Mooncake.
Check out Starbucks' mooncake collection Inspired by signature beverages, including Caramel Macchiato, a coffee lotus mooncake with a soft caramel lava; Matcha Adzuki, a green tea lotus mooncake with adzuki (red bean) lava; Chocolate Hazelnut Praline, a chocolate lotus mooncake with hazelnut lava; and Golden Lotus Salted Egg, a classic lotus mooncake with an indulgent salted egg lava filling.
At Jaya Grocer's Pop-Up Mooncake Fair, Concourse, you will find a myriad of mooncakes, teas and other Mid-Autumn delicacies. Don't miss Hong Kong Mei Xin's signature Hong Kong MX Lava Custard Mooncakes that uses a unique double-baked technique to create exceptional taste and texture. Be sure to also try Hong Kong Mei Xin's selection of premium eggrolls for a satisfying crunch that will have you back for more.
For soft and chewy snow skin mooncakes, try Yu Ai's Musang King Snowy Mooncake for the delectable aroma of premium Musang King durian. For something more unique, try the Mochi Mooncakes filled with Red Bean or Sweet Potato. Other mooncake brands available at Jaya Grocer's Pop-Up Mooncake Fair include Fai Fong, KLT and Hae Way Tian.
After shopping for mooncakes, shoppers may unwind with a Chinese cuisine reunion dinner – choose from delectable ses at Oriental Landmark, Dim Sum Degustation at In Colonial, or a traditional Malaysian meal at Grandmama's.
For more information on Intermark Mall's activities and promotions, visit intermark-mall.com, or check for real-time updates via Facebook, Instagram, or contact Customer Service at 03 2166 8170.