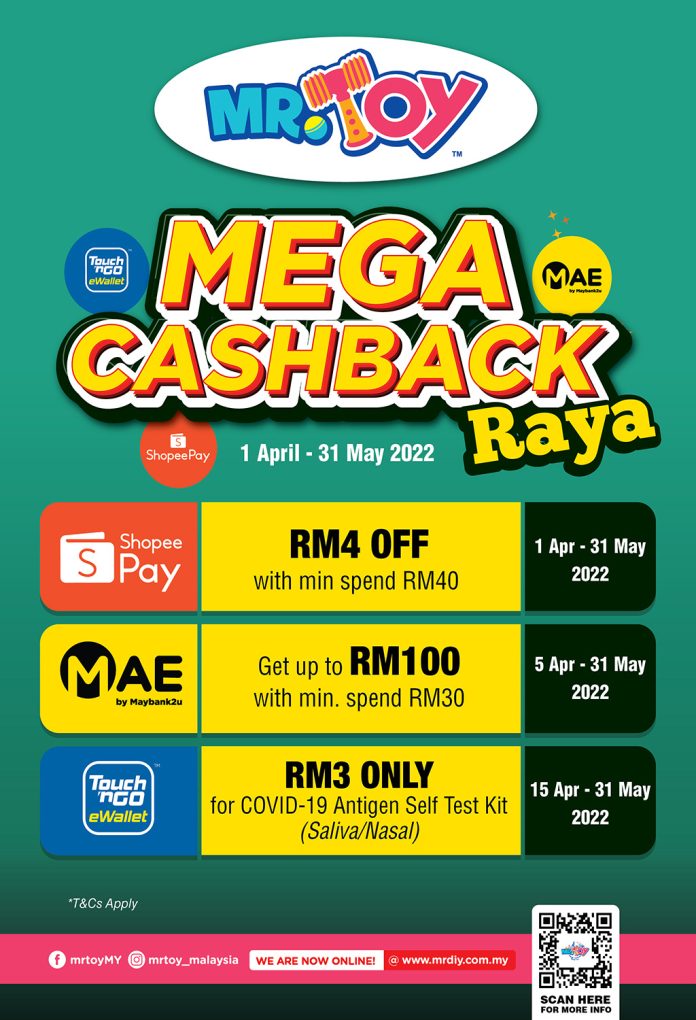 Retailer partners 6 financial service providers this Hari Raya
KUALA LUMPUR, 13 APRIL 2022 – It's Mega Cashback time again at Malaysia's favourite home improvement store, just in time for Hari Raya!
MR D.I.Y. Group [MR D.I.Y.] is partnering with six financial service providers to offer attractive in-store cashback and discounts across participating MR. D.I.Y., MR. TOY, and MR. DOLLAR stores. The six providers are five e-wallets – Boost, Grabpay, MAE by Maybank, Shopeepay and Touch 'n Go eWallet, as well as HSBC Bank. The promotion runs from 1 April to 31 May 2022.
Announcing the offer, Alex Goh, Head of Marketing, MR. D.I.Y. Group said, "The first MR D.I.Y.'s Mega Cashback campaign last February did very well; customers used the opportunity to enjoy the exceptional value at our stores.  Due to popular demand, we decided to bring the offer back again – even exciting this time around – to help Malaysians enjoy more savings and benefits as they gear up for the Hari Raya and holiday season.  It is the time of the year when Malaysians are looking for everyday essentials, festive products as well as gifts, and "buah tangan"; it's the perfect time to give them something more.
"After two years of lockdowns and movement restrictions, everyone is looking forward to traveling, visiting, and celebrating together with their loved ones this Hari Raya Aidilfitri. Our aim is to make it more affordable, more convenient, and more rewarding for them to do so," added Goh.
The Mega Cashback campaign runs in tandem with the retailer's current 'Raya Serba Baharu' campaign. Malaysians can find more than 200 Hari Raya essentials at 'Always Low Prices', including popular festive essentials like curtains, cushion covers, as well as other home furnishing and kitchenware items.
'MR D.I.Y.'s Mega Cashback' is available at participating MR. D.I.Y., MR. TOY, and MR. DOLLAR stores, only with the use of the respective e-wallet payment services in-store. Information on the promotion can be found at https://www.mrdiy.com/promotion/327/MR.DIY-Mega-Cashback-2022/. For more information about MR D.I.Y., visit www.mrdiy.com, e-commerce platform, www.mrdiy.com.my, Facebook, and Instagram.