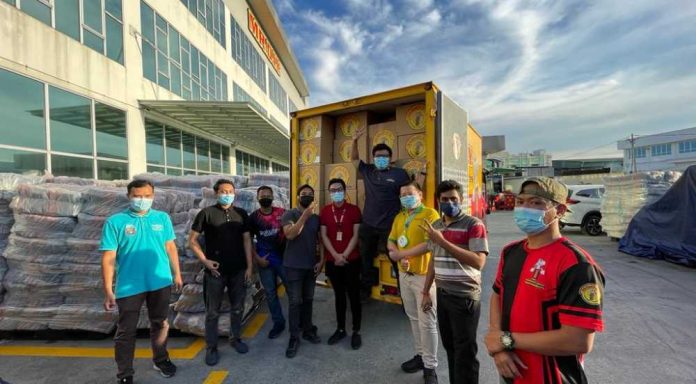 KUALA LUMPUR, 14 June 2022 – MR D.I.Y Group [M] Berhad [MR D.I.Y] recently lent its support to the Computer Empowerment Programme, an initiative by Medical Awareness Camp Outreach (MACO).   The latter is an NGO formed by a group of specialist doctors and non-medical volunteers who provide free medical services, meals, food aid, and refurbished computers to the underprivileged. Under the Computer Empowerment Programme, MACO  repurposes computer sets to equip computer laboratories in schools. Over 2,000 computer sets have been repurposed by the organisation as at April, 2022.
MR D.I.Y's IT team volunteered to support the programme by refurbishing 110 complete computer sets inclusive of Central Processing Units (CPU)s, monitors, keyboards, and accessories, ready for schools across Peninsular Malaysia to use them in their computer labs. The refurbished computers were sourced from MR D.I.Y's headquarters in Seri Kembangan as well as its stores around the country.
Commenting on the initiative, MR D.I.Y. Group Chairman, Dato' Azlam Shah Alias said, "We know that one of the groups hardest hit by the pandemic has been students. We realised, as students started to return to school post-pandemic, that many schools needed help to ensure they are properly-equipped facilities to accommodate online teaching and learning needs. With 900+ stores nationwide, our IT team is well-versed with the workings of computers, and volunteered to help source and refurbish these computers to support the cause.  We hope this contribution will help students continue learning without any hindarence. "
Dato' Azlam thanked MACO for organising the initiative"This is a noble and necessary initiative that will certainly help schools continue to provide effective digital-based so students stay on-track. We hope more companies will come forward to help organisations like MACO, so that we can collectively add value to the education sector," said Dato' Azlam.
In December 2021, MR D.I.Y. was admitted to the globally renowned FTSE4Good Index 2021, a reflection of the home improvement retailer's efforts to continuously make a positive impact on the communities in which they operate. 
For more information on MR D.I.Y., visit its website,  www.mrdiy.com , and social media, Facebook, and Instagram.