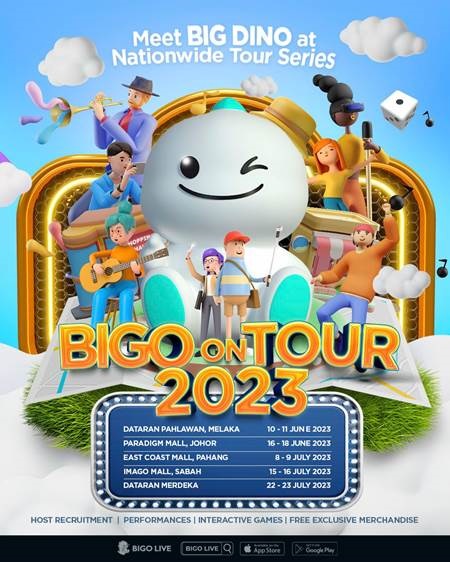 Life-sized BIGO Giant Dino tours across Malaysia for the first time to celebrate its Malaysian  community
Kuala Lumpur, 8 June 2023 – Bigo Live, the global live streaming platform helping local  broadcasters and users connect to the world, has unveiled its BIGO Giant Dino World Tour in Malaysia which kicks-off in Melaka this weekend. The Giant Dino will tour across five  Malaysian cities celebrating Bigo Live and its community of broadcasters across the country. 
Bigo Live is hosting the Giant Dino tour as a way to showcase how virtual and physical  worlds can bind together and complement each other. This tour is a symbol of celebration in  bringing together the online and offline culture of Bigo Live and connecting their creators  within the same local communities. 
The Giant Dino, towering at almost 2-metre tall and 2.5-metre wide, will be on display at key  Malaysian cities. Each stop of the tour brings together Bigo Live broadcasters and their fans  to experience the Bigo Live virtual connections, community and positive spirit in-person. 
"Malaysia is a special place for us. We have heard from all our amazing fans about this  beautiful country and we're thrilled to bring the Bigo Live experience to life through our BIGO  Giant Dino World Tour. We continue to see a strong presence of users across Malaysia and  are making five stops across the country. We are excited for everyone to have an  opportunity to come together and meet our amazing broadcasters, and celebrate the power  of connection, culture and community," said Vivi He, Country Manager for Bigo Live. 
The BIGO Giant Dino will be on display in different states of Malaysia, starting with Melaka,  followed by Johor Bahru, Pahang, Sabah and Kuala Lumpur. 
Each stop of the tour features exciting performances by local broadcasters and sharings by  Bigo brand ambassadors about experiences using the world's leading social live streaming  app. Fans will also have the opportunity to meet and capture their interactions with the Giant  Dino and Bigo Live broadcasters. There will also be social media and on-site challenges  where Bigo Live users and members of the public are encouraged to participate in and win  exclusive prizes as well as pick-up Bigo Live merchandise.  
The Malaysia tour dates are as follows: 
Melaka, Dataran Pahlawan Melaka Megamall, 10-11 June 

Johor Bahru, Paradigm Mall, 16-18 June 

Kuantan Pahang, East Coast Mall, 8-9 July 

Sabah, IMAGO, KK Times Square, 15-16 July 

Kuala Lumpur, Dataran Merdeka, 22-23 July