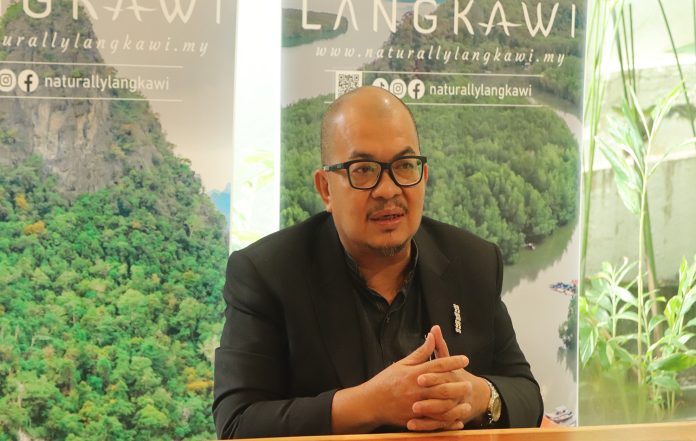 Participating in the World Travel Market, London 2022 to Unlock More Business Opportunities
7 November 2022, London – The Langkawi Development Authority (LADA) participated in this year's edition of the World Travel Market (WTM), which took place in London from 7th to 9th November 2022 to unlock business opportunities for inbound and outbound tourism professionals. The event also served as a platform for LADA to launch their new tagline, "99 Magical Islands in the Sun" and promotional video for Langkawi.
Commenting on this announcement, Mr. Nasaruddin Abdul Muttalib, Langkawi Development Authority's (LADA) Chief Executive Officer said, "WTM 2022 is a leading global event with a strong presence and hosts industry professionals from all across the globe, hence we felt that it would be a great platform and opportunity for LADA to leverage on to showcase our brand alongside some of the biggest names in accommodation and hospitality, renowned tourism destinations and attractions, innovative travel technology providers as well as airlines."

He added, "We hope that through this event and the launch of our new tagline and video, we will be able to position Langkawi as one of the most desired tourist destinations in the world. Our goal was to showcase Langkawi's captivating beauty to the world in an energetic, fast- paced and lively manner while presenting all the unique adventures that await tourists in Langkawi."
While Langkawi may hold the title of being home to numerous tourist attractions and luxury hotels, it also retains its 'Old Malaysia' charm. Not only is the island the quintessential holiday relaxation spot, but it is also home to the first UNESCO listed geopark in Southeast Asia and enriched with a spectacular mountainous landscape, crystal clear seas as well as home to plenty of beautiful, luxurious resorts. Located on the island is also Mount Machinchang, the oldest mountain range of Southeast Asia. Formed 550 million years ago, it provides a panoramic view of the Burau Bay and Pantai Kok from atop.
To further entice tourists to visit the island, Panorama Langkawi, also known as Langkawi Skycab, which celebrated its 20th anniversary in September will be collaborating with Malaysia Airlines for the Bonus Side Trip offer. This offer will provide an opportunity for tourists to get a free domestic ticket with a purchase of any international route to Malaysia. To top off that exciting deal, LADA will also add on a free entrance to Skycab to the domestic ticket starting 1 November 2022. This iconic attraction is one of steepest cable car rides in the world. At 708 metres above sea level, visitors will be blessed with incredible 360 degrees panoramic views of the entire island.
Adding to Langkawi's appeal, LADA has introduced the Langkawi Charter Flight Programme incentive to encourage the entry of more charter flights. This caters to flight companies that provide charter flight services into the island on a first-come, first-served basis. Besides that, Langkawi is also the preferred destination for MICE (Meetings, Incentives, Conferences and Exhibitions) activities. As of the third quarter of 2022, there have been almost 5,000 participants in total that have conducted activities here.
The World Travel Market is a vibrant must attend business-to-business event that facilitates
2.8 billion Pounds (Sterling) in industry deals and has around 5,000 exhibitors from 182 countries and regions with more than 51,000 participants. This incredible opportunity will help LADA position Langkawi as a frontrunner in the tourism industry and increase visibility for the island.
Most recently, Langkawi was voted top 4 Best Islands to Visit in Asia in this year's edition of the Condé Nast Traveler Readers' Choice Awards 2022. Four Seasons Resort Langkawi, The Datai Langkawi and The St Regis Langkawi was also voted the Top 20 Resorts in Asia.