With the Mid-Autumn festival around the corner, many have released interesting versions of the dessert pastries, filled with delicious and unique flavours. Whether you're a mooncake purist, gourmet on the hunt for the best flavours or just love beautiful packaging, we've got the perfect guide for you.
En-durian love for mooncakes!
Dragon-i offers the best combination for those who love durian and snow skin mooncakes. With the aromatic, distinctive taste and custardy texture, the delicate snowskin is dyed a pretty shade of yellow and filled with a creamy and dreamy Musang King pulp, making it a dessert worth sharing with friends and family.
Location: Dragon-i, Level 1 (Orange Zone), Pavilion Bukit Jalil
Bursting with flavour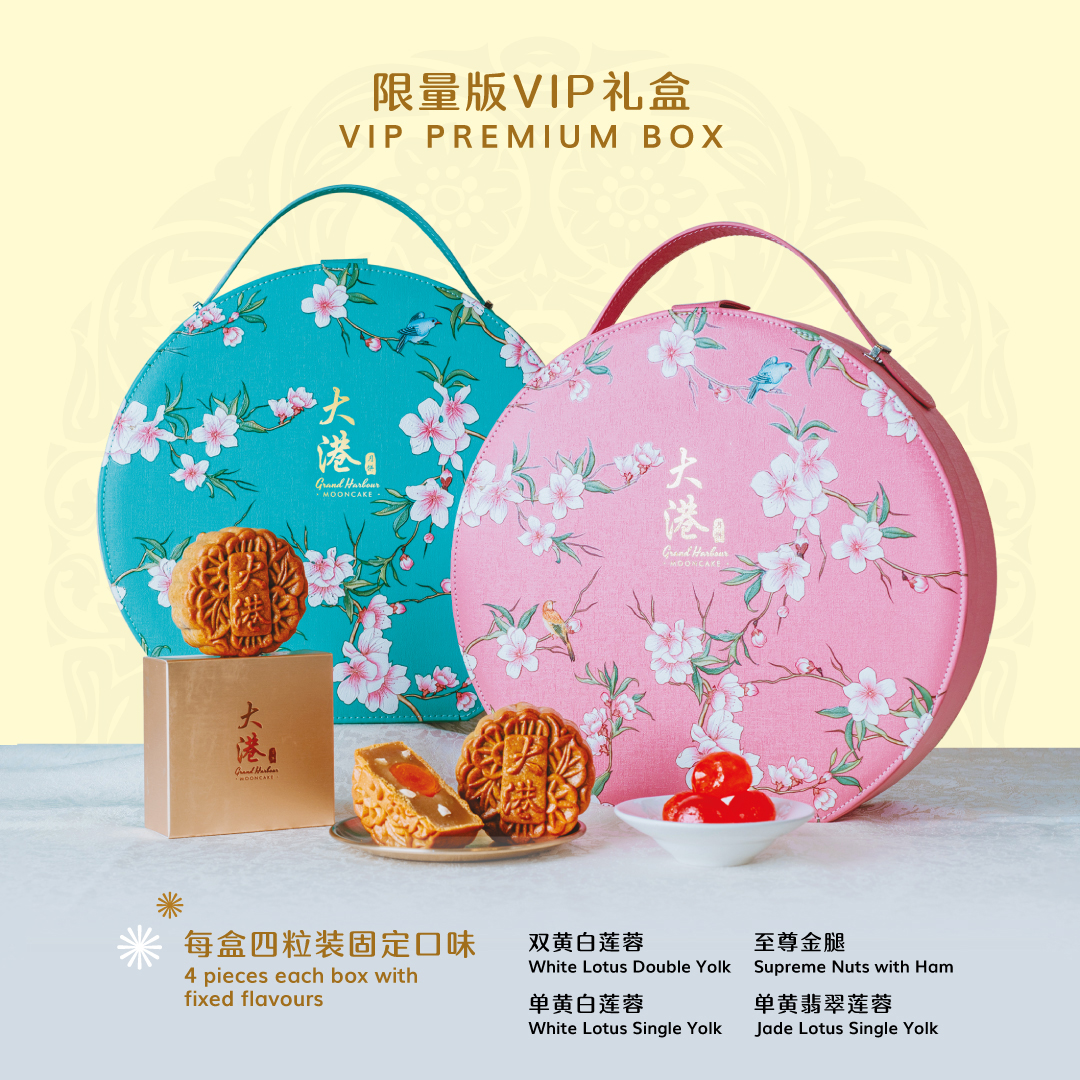 Grand Harbour mooncakes are handmade from scratch using the finest ingredients with the best traditional fillings. Share the love with loved ones with Grand Harbour's VIP Premium Box – featuring beautifully painted flowers on a blue or pink bag filled with White Lotus Double Yolk, White Lotus Single Yolk, Supreme Nuts with Ham and Jade Lotus Single Yolk flavours!
Location: Grand Harbour, Level 5 (Pink Zone), Pavilion Bukit Jalil
Coolest Mooncake in Town!
Inside Scoop has rolled out its adorable ice cream mooncake gift set this year! This dainty set features mooncakes enveloped in chocolate shells or snow skin pastry and filled with four delectable ice cream flavours — dark chocolate with orange, durian with chocolate ganache, oolong tea with red bean, and raspberry yoghurt with blue pea flower. We can't think of a cooler sweet treat than this to celebrate the Mid Autumn Festival!
Location: Inside Scoop, Level 3 (Pink Zone), Pavilion Bukit Jalil
Over the moon!
Moonlight Cake House and Cafe serves up delicious and stunningly beautiful mooncakes that are like something out of the Japanese anime Yakitate.
Choose from a whopping 17 mooncake flavours, with each flavour featuring a unique design (what a sight!) If you don't know where to start, we recommend their best-selling Single Yolk Lotus or White Lotus fillings, or if you are feeling adventurous, try the Durian Lotus or Mixed Nuts flavours.
Location: Moonlight Cake House and Cafe, Level 1 (Orange Zone), Pavilion Bukit Jalil
Golden and flaky goodness
The wait is finally over for those of you who love the traditional pastry-style mooncakes of yesteryear. PUTIEN's mooncakes are traditionally Teochew-styled with old-school fillings like yam and purple sweet potato, all enveloped in a deep-fried flaky crust. Thanks to the natural sweetness of the yam and sweet potato, these mooncakes are low in sugar and have no preservatives or additives, letting the natural flavours of the mooncake shine through!
Location: PUTIEN, Level 5 (Orange Zone), Pavilion Bukit Jalil
Sensational lava delights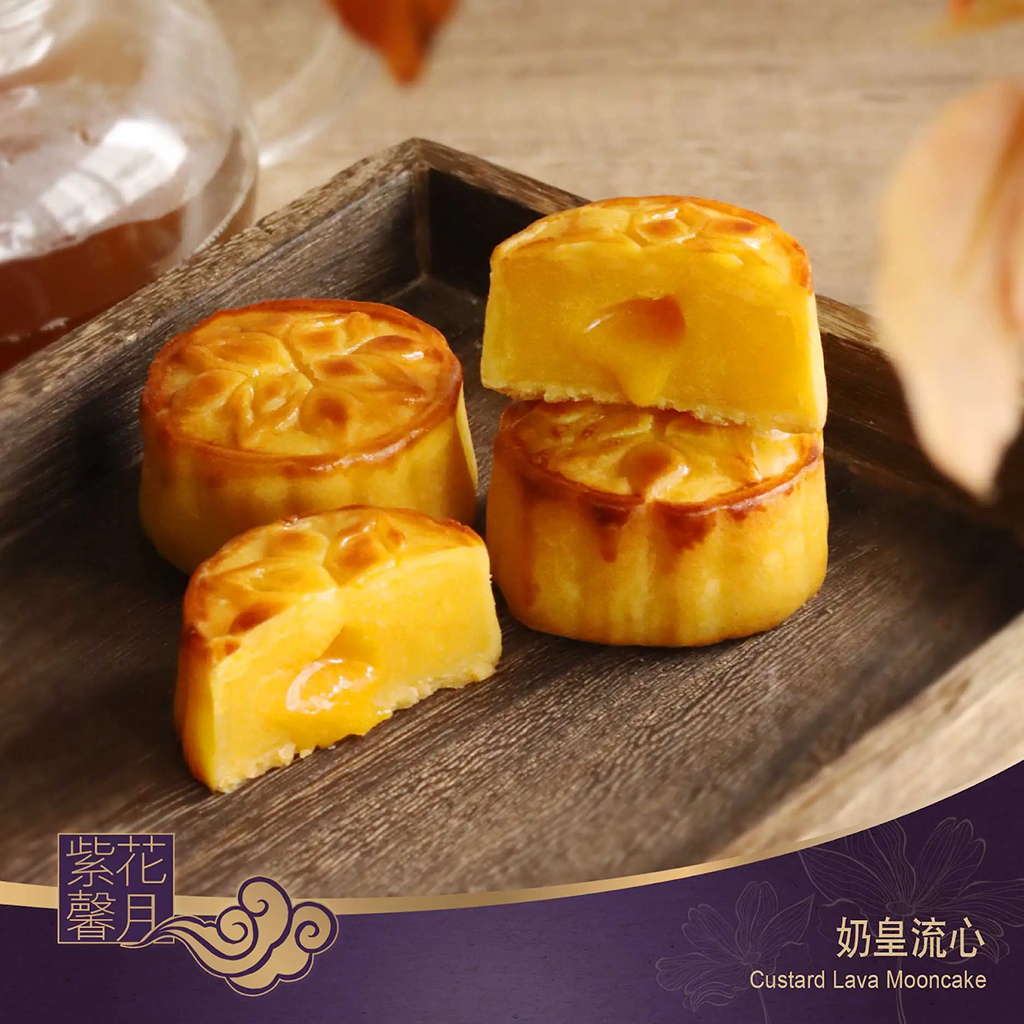 Lavender's Custard Lava Mooncakes are the perfect delicacy to satiate your sweet cravings. Be pleasantly surprised by the sensational lava core filled with creamy salted duck yolk – which makes it a perfect gift to loved ones (or yourself!)
Location: Lavender, Level 1 (Orange Zone), Pavilion Bukit Jalil

Uniquely Halal Offerings
This festive season, duluKINI presents exciting halal options for all to enjoy. Indulge in a box of traditional mooncake flavours like red bean, lotus and pandan, or check out unique flavours like the Musang King Durian Snowskin Mooncake with creamy filling or Golden Taro Mochi Mooncakes for something a little different.
While you're there, you can also pick up the Birdnest Mooncake Set that offers unique fusion flavoured mooncakes with two bottles of birdnest, making it the perfect gift set.

Location: duluKINI, Level 2 (Pink Zone), Pavilion Bukit Jalil
It's festive here!
While we have many impressive mooncake offerings for you to enjoy, Pavilion Bukit Jalil still has more to offer! No Mid-Autumn celebration would be complete without a lantern parade or a lively marketplace for you to explore and experience with your loved ones.
From August 19 to September 11, Pavilion Bukit Jalil is hosting a Carnival of Joy with various activities and workshops. Learn a thing or two about culture and heritage from the traditional lantern making workshops, get inspired by the creative instrument and dance performances and let yourselves be swept away by the beautiful Lantern Parade.

Parents can also bring their children for a day out to admire the beautiful Mid Autumn decor, bond with bunnies at the Bunny Petting Zoo, watch the Kids Public Speaking Session, Wushu Performances and even get their Mid Autumn wish on the Digital Lantern Wishing Screen. 
While you're there, you can also visit the Marketplace at the Centre Court for more unique mooncake selections to gift your friends and family this festive season. 
For more information on the 'Carnival of Joy' activities and promotions, visit www.pavilion-bukitjalil.com, or check for real-time updates via Facebook, Instagram, or contact Customer Service at 03 8092 8833.