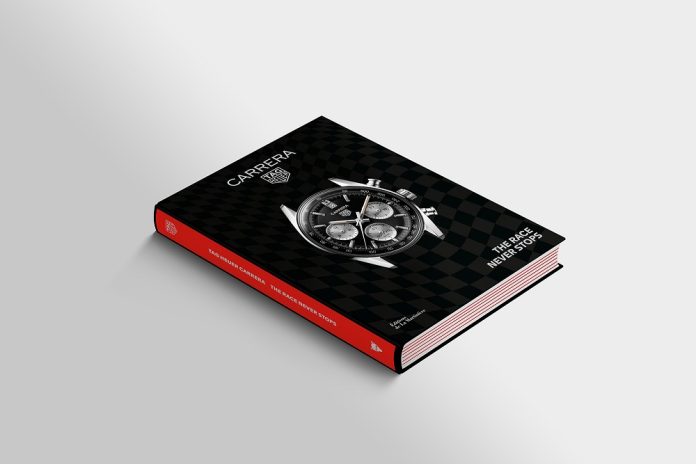 TAG Heuer, the renowned Swiss luxury watchmaker, launches a new remarkable book*, "TAG Heuer Carrera: the race never stops," commemorating the history of its iconic timepiece, the TAG Heuer Carrera. This exquisite publication promises to captivate collectors and enthusiasts alike with its rich content, historical insights, and a remarkable catalog.
Divided into six captivating chapters, each representing a decade of the Carrera's illustrious existence, this book is a testament to the enduring charm and significance of this horological masterpiece. From the swinging sixties to the vibrant eighties, and beyond, "TAG Heuer Carrera: the race never stops " takes readers on an exhilarating journey through the watch's evolution, showcasing its impact on the world of timekeeping.
This exceptional publication not only offers historical insights but also includes an exclusive Carrera catalog, showcasing the most significant Carrera watches from 1963 to 2023.
The Carrera catalog section serves as the definitive resource for collectors and enthusiasts, making it an encyclopedia of Carrera watches. Each meticulously curated model features essential details, including the movement, date of birth, a stunning photograph, nickname, and diameter.
The inclusion of the Carrera catalog ensures that this book becomes an indispensable reference for collectors, enthusiasts, and anyone passionate about the world of luxury timepieces.
The release of this commemorative book marks a significant milestone in the history of the TAG Heuer Carrera, inviting expert, connoisseur, and watchmaking aficionados to delve deeper into the intricate world of this revered timepiece. With its meticulous attention to detail and captivating narratives, "TAG Heuer Carrera: the race never stops" is set to become an essential addition to any watch connoisseur's library.
* In collaboration with: 1. Simon de Burton – Specialist watch journalist and author. 2. A discussion between Marc Newson – Designer, and Nick Foulkes, Author, historian, and journalist. 3. Jason Barlow – Editor-at-large, BBC Top Gear and contributing editor, British GQ. 4. Robin Swithinbank – Author and journalist. 5. Judikael Hirel – Author, Journalist and Head of the Watchmaking department, Le Figaro. 6. Jeff Stein – Watch collector and creator of the OnTheDash.
"TAG Heuer Carrera: the race never stops" will be available in TAG Heuer Boutiques and book shops.
Launch Date: 6 October 2023 PAGINATION : 352 pages FORMAT : 25 x 31 cm
PRICE: 100 CHF / EUR / USD
EDITOR: Les Editions de la Martinière