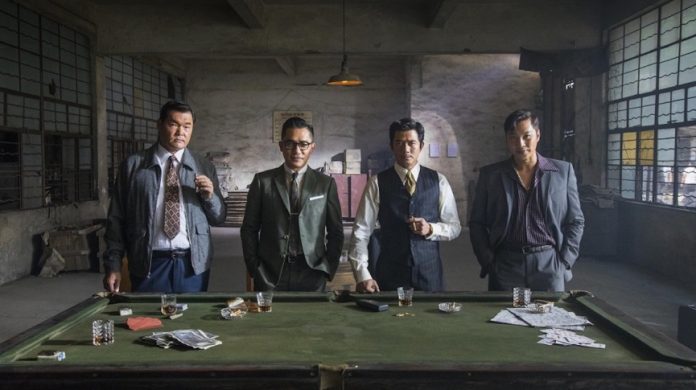 15 August 2022 (Hong Kong) – Philip YUNG's much-anticipated crime epic Where The Wind Blows world premiered tonight as one of the two major local productions opening the 46th Hong Kong International Film Festival (HKIFF46).
Joining co-lead Aaron KWOK on the red carpet at Emperor Cinema iSQUARE are members of the film's glittering ensemble cast, including LAM Yiu-sing, Stephen HO Kai-nam, Deon CHEUNG Chung-chi, WAN Yeung-ming, and Paco WONG Hing Nam. The multi-talented KWOK also returns as Hong Kong International Film Festival's official ambassador for the fourth year.
Despite his absence from Hong Kong for production, director YUNG shared his joy and excitement with a packed audience through a recorded message before the world premiere of his genre-bending magnum opus.
Where The Wind Blows, YUNG's long-awaited follow-up to the critically acclaimed Port of Call (39th Closing Film), is an ambitious, genre-bending epic loosely based on the rise and fall of the notorious "Four Great Sergeants" in 1960s Hong Kong.  The film centres on the friendship and rivalry between two resourceful police detectives who forge dangerous alliances with organised crime.
This first onscreen pairing of superstars Aaron KWOK and Tony LEUNG Chiu-wai also boasts a scene-stealing performance from Hong Kong cinema icon Michael HUI. Michael CHOW, Elaine JIN, TSE Kwan-ho, DU Juan, Jessie LI and Patrick TAM Yiu-man are also among the stellar cast.
HKIFF46 is going hybrid again with screenings and audience-engagement events in theatres and online for 17 days until 31 August. The complete programme and screening schedule are available at HKIFF's official website (www.hkiff.org.hk).  Tickets can still be purchased through URBTIX.