Stars to engage with fans virtually in the leadup to 10 August premiere
PCCW (SEHK:0008) – HONG KONG / SINGAPORE, 15 July, 2022 – Viu, PCCW's leading pan-regional OTT video streaming service, is proud to announce that the highly anticipated Korean drama series If You Wish Upon Me <당신이 소원을 말하면>  will be premiering on 10 August, with the series available exclusively on Viu across its 16 markets. The Viu Original stars Korean drama sensations Ji Chang-wook and Choi Soo-young in a tug-at-your-heartstrings storyline, directed by Kim Yong-wan, written by Jo Ryeong-su and produced by Climax Studio, the production house behind the titles D.P and Hellbound.
Ji Chang-wook plays the character of a troubled young man, who at the verge of ending his own life, ends up with a community service order to join as a hospice staff member and finds himself fulfilling the last wishes of people at the end of their lives at this hospice. In the process, he discovers how to live life again. Choi Soo-young, the female lead in the drama series, plays the role of the hospice's hospital nurse who is a confidante to the patients.
Virtual Cast Meet on 27 July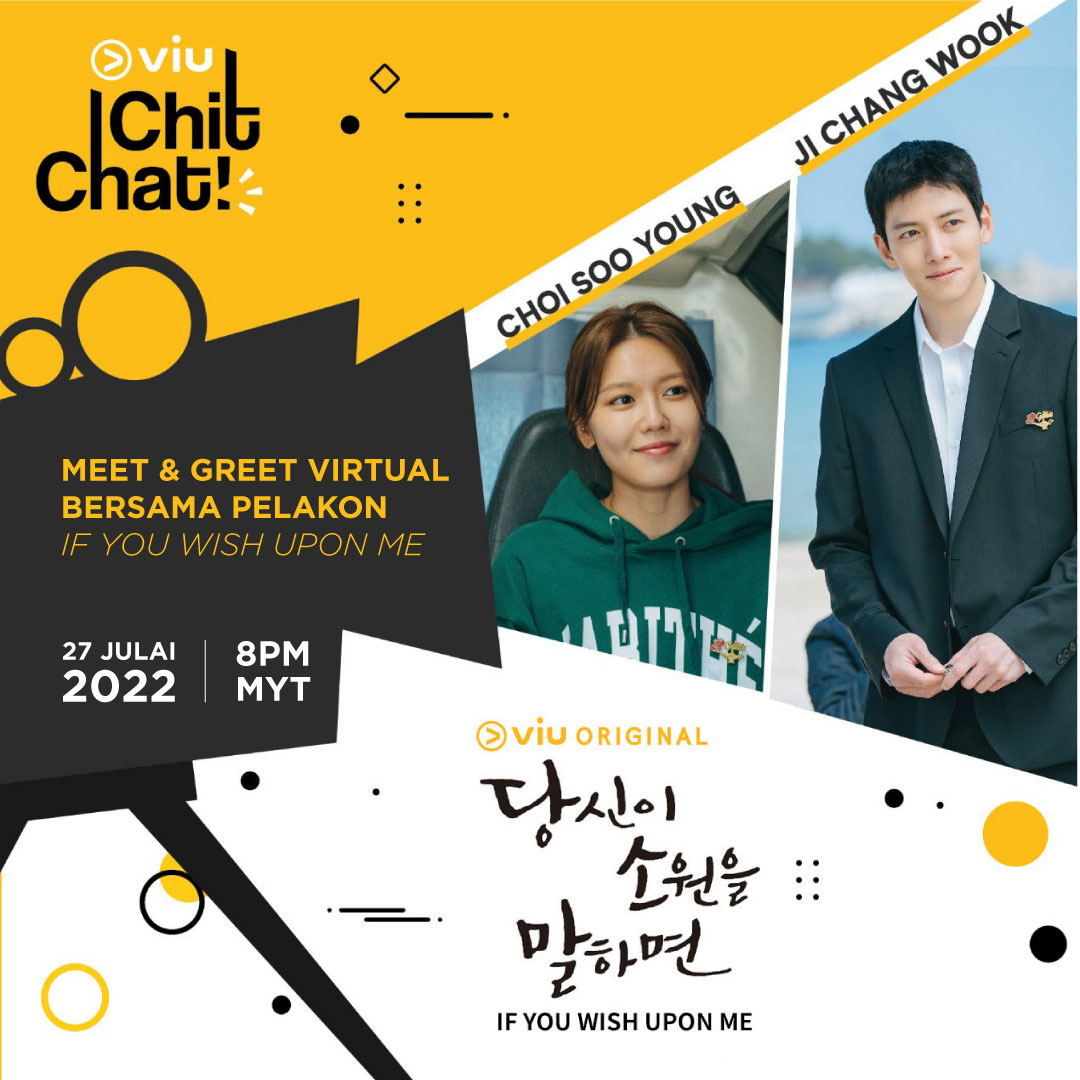 As a special appreciation for Viu-ers an exclusive virtual cast meet will be organised with the two main stars Ji Chang-wook and Choi Soo-young. Viu will host this event on a specially designed microsite, where  selected Viu-ers get to engage with their favourite stars of the show and the stars get to meet selected fans. This will be live streamed across the four participating countries including Hong Kong, Malaysia, Thailand and Indonesia.
From 12 July to 22 July Viu-ers will get the opportunity to be selected to meet the stars. In total, there will be 1,000 Viu-ers who will get to meet the celebrities.
Ms Helen Sou, Chief Business Officer, Asia, Viu, said, "We are very excited for this highly anticipated Viu Original starring Ji Chang-wook and Choi Soo-young, and we want to create additional excitement for our Viu-ers and partners. This once-in-a-lifetime opportunity with the Virtual Cast Meet on 27 July is one such experience that I am sure those attending will not forget. Building fandom is our focus to drive more connection with our users and create more 360 partnership opportunities."
If You Wish Upon Me <당신이 소원을 말하면 > will premiere in Korea on KBS and Lifetime Korea on 10 August. It is the second A+E Korea production in partnership with Viu after Woori the Virgin, and the first Korean drama to carry the A+E Studios branding.
Viu-ers can catch If You Wish Upon Me <당신이 소원을 말하면 > and Viu's extensive library of fan favourites, First-on-Viu and exclusive titles on the Viu app, which can be downloaded for free on App Store, Google Play, Huawei App Gallery and selected smart TVs, as well as on the web at www.viu.com.