Kuala Lumpur, 15 Dec 2022 – Have you got your Christmas shopping sorted yet? If you're looking for something different to give your loved ones this Christmas, then you're in for a treat as Darlings Honey have collaborated with NaturoSqin to launch their Christmas Gift sets that not only pamper your skin but keep you and your loved ones healthy.
This Christmas, homegrown brands Darlings Honey and NaturoSqin are offering two unique gift sets for this magical season which will let you experience the magic from outside and from within!

Wonderful Christmas Set A
Darlings Obsidian Honey (150g)

Darlings Golden Propolis (5ml)

NaturoSqin Shower Parfait (150g)

NaturoSqin Bath Bomb (160g)



Wonderful Christmas Set B
Darlings Obsidian Honey (150g)

NaturoSqin Shower Parfait (150g)





Darlings Honey is purveyor of premium stingless bee honey harvested from

Trigona Itama

stingless

bees – found in less than 10 countries worldwide, including Malaysia. Stingless bee honey is a nutritional powerhouse with a host of medicinal properties as well as having anti-inflammatory, antimicrobial, anti-diabetic, and antioxidant benefits according to this

study

.
Itama stingless bee honey is known for its more complex flavour profile, with a mild sourness that adds depth to the sweetness of honey. It also has only one-third the Glycemic Index (GI) compared to manuka honey, thanks to its low sugar content, making it suitable for consumption by any one of any age, including diabetics.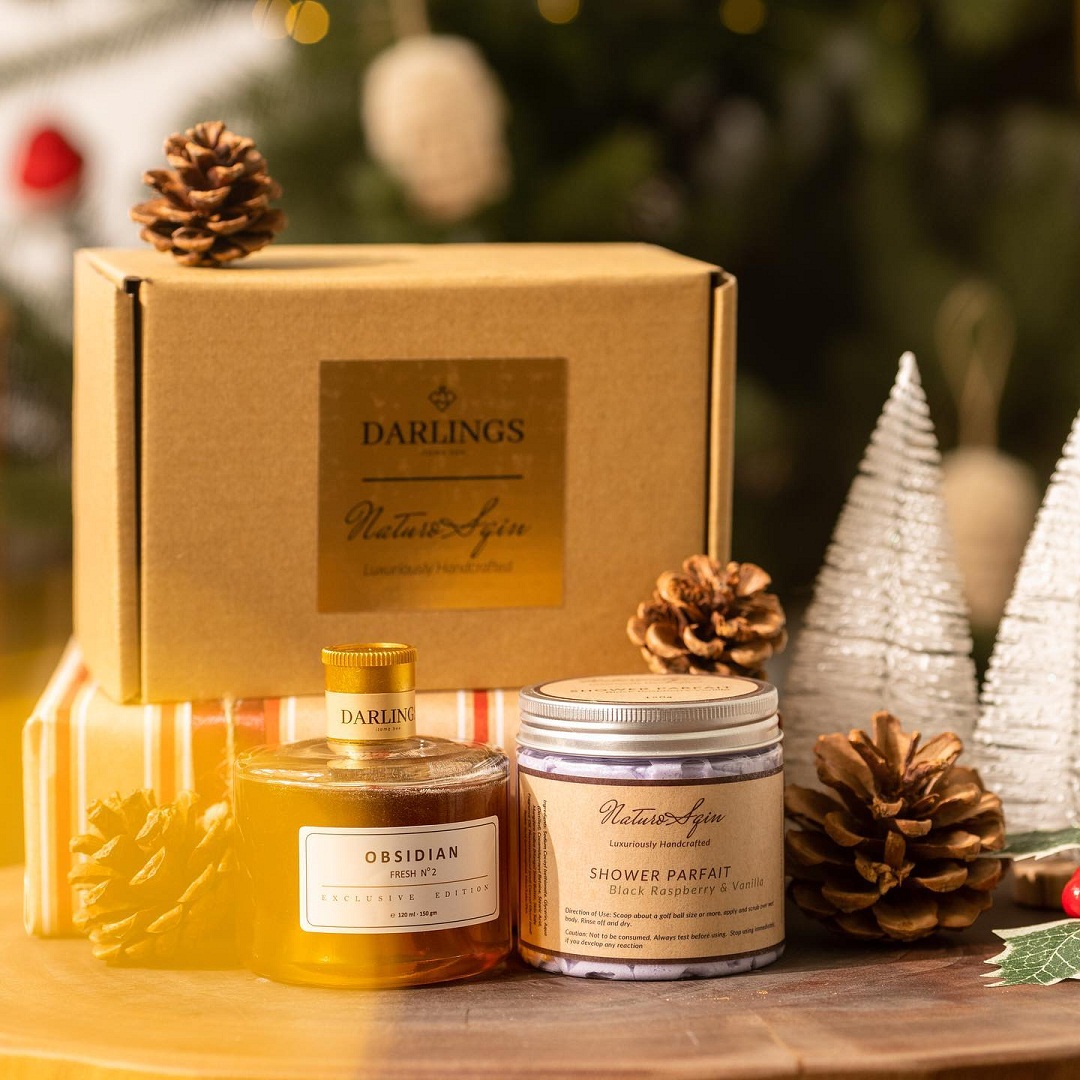 Every single bottle of Darlings Itama Honey is 100% pure, natural, raw and organic honey. It has zero processing and is bottled without any additives, colourings, sweeteners or preservatives – straight from "Forest-to-Bottle" to You, without adding or taking away anything. Darlings Honey recently received the Consumer's Choice Award from the National Consumer Action Council better known by its Malay name, Majlis Tindakan Pengguna Negara (MTPN). As part of the award nomination, Darlings Honey went through a rigorous audit process to ascertain if it complied with MTPN's stringent standards. The award is also recognition of the trust that has been placed in the brand by its customers.
NaturoSqin makes luxuriously handcrafted bath and body care products that uses premium plant-derived ingredients that are skin-safe and free from parabens, sulfates and phthalates. Their best-selling luxury bath bombs help you relax and rejuvenate whilst nourishing and moisturising your dehydrated skin.
Recognizing that not many households in Malaysia have a bathtub at home, NaturoSqin also offers an expanded product range including scrubs, body creams, shower parfaits, and soaps. Their shower parfaits feature a variety of scents to evoke the senses and either start your day right or lift your spirits after a rough day.
Christmas is around the corner and if you're looking to spread some joy and cheer, then gift the bee-st to your loved ones this Christmas with our Wonderful Christmas gift sets! Shop the perfect gift on our online store today and it will be delivered straight to your doorstep or to your loved ones before Christmas.
Prices starts from RM148 and includes gift box and delivery charges. For more details, visit Darlings Honey's website or check out their Facebook or Instagram pages