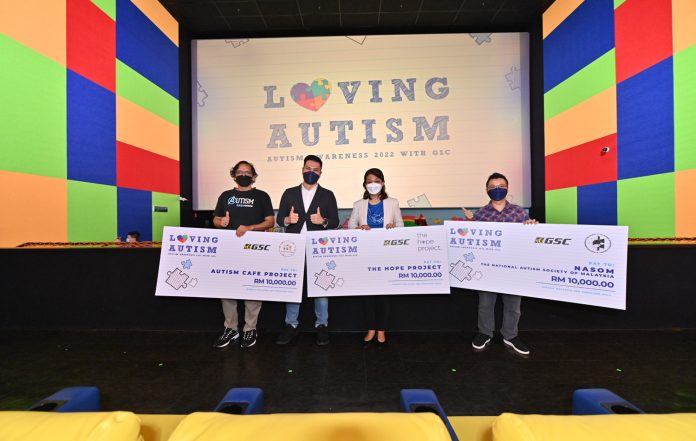 Kuala Lumpur, 18 July 2022 – Golden Screen Cinemas (GSC) recently held a cheque presentation ceremony for its "Loving Autism" campaign, concluding its efforts to raise funds through the screening of two autism-themed films, The Reason I Jump and The Specials earlier in April this year. Both films were screened as part of GSC's social responsibility initiative to raise awareness for autism spectrum disorder (ASD), with RM1 going from each ticket sold to a donation pool. As part of this effort, GSC raised and donated a total of RM30,000 for the campaign.
The cheque was presented by Mr. Sharmine Ishak, GSC's Public Relations and Branding Manager to Mr. Julian Wong, Chairman of The National Autism Society of Malaysia (NASOM); Ms. Jochebed Isaacs, Director of Early Autism Project (EAP) and The Hope Project (THP); and En. Mohd. Adli Yahya, Founder of Autism Café Project (ACP). Each of the organisations received a cheque worth RM10,000 in support of their projects and cause.
GSC as a safe space for the neurodivergent community
In addition to the cheque presentation, GSC also launched its sensory-friendly movie screenings – a new accessibility that will be introduced to selected cinemas. Hosted every second Sunday of the month from July 2022, these sensory-friendly movie screenings are designed for neurodivergent audiences with features including a lowered audio volume and dimmed lights throughout the screening. Sensory-friendly screenings also provide a quiet room for use, if need be, and staff are trained to assist with audiences who need extra care during these screenings.
GSC's sensory-friendly screenings are presently complimentary and available at GSC 3 Damansara only, however, more locations will be available in due course. Interested organisations and communities supporting autism and other neurodivergent conditions may book a sensory-friendly screening online via the GSC website.
The launch ceremony for the sensory-friendly screenings included a wonderful performance
of Count on Me (Bruno Mars) and Paprika (Kenshi Yonezu) by the NASOM choir group.
To further support the autism community, GSC also organised a special charity bazaar on Sunday, 17 July 2022 at the Pitstop, Concourse Floor in Tropicana Gardens Mall. The
Loving Autism bazaar, which ran from 11AM to 5PM, offered a myriad of merchandise, products, food stuffs, and other handmade goodies by children and young adults from NASOM, THP, and ACP. Mallgoers had the chance to browse and purchase the works of autistic artists such as Amira Daniea (Daniea's Art) and Luqman Hakim.
More information about GSC's "Loving Autism" campaign is available on GSC's website at www.gsc.com.my and social media. Please follow GSC at @gscinemas on Facebook, Instagram, TikTok, or Twitter for the latest updates.
For more information, please contact GSC's Public Relations and Branding Team:
Ms. Noordiana Ibrahim

PR & Branding, Senior Executive

(+6019) 313 2310

Mr. Sharmine Ishak

PR & Branding, Manager

(+6016) 675 8729