PETALING JAYA, 8 March 2021 – Part of what makes Grab, is the diversity and inclusion of different women from all walks of life and backgrounds. To celebrate International Women's Day, we want to bring to the forefront the stories that drive change and the women who help us address essential needs and provide safe, seamless and amazing experiences to our community.
These women are our partners, strategists, safety experts and customer care experts that our users rely on and who support the operational needs of our community.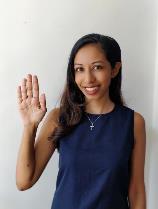 Kimberly Xavier – Regional Head of Safety & Quality
I lead a team across 8 countries in the region where we design features, best practices and processes to elevate safety across the Grab platform. It has been an incredible and humbling journey so far, where I am required to confront realities on how safety related incidents truly affect people around you which can be truly heartbreaking. I #ChooseToChallenge myself by overcoming adversity, face your inner fears and self-doubt by pushing myself to do things that may seem difficult and uncomfortable. It is precisely these challenges that's allowed me to grow myself professionally and discover how resilient I really am.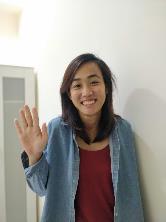 Wong Ee Xin – Head of Strategy & Projects, Malaysia
I lead the Strategy & Projects team in Grab Malaysia, where we collaborate to explore new ideas, which are driven by data and insights, to introduce new products or features that help the community we serve. For example, 'Project Pikul Bersama' to help our driver-partners overcome the e-hailing regulatory hurdle and GrabSupermarket, the delivery-only supermarket to serve the growing demand of online grocery shoppers. I #ChooseToChallenge the norm, the default ways of thinking and the old ways of doing things so that we grow as individuals and as a community.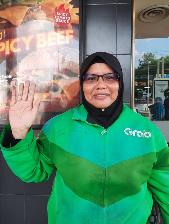 Che Laili Binti Mat Hussain, Delivery-partner from Melaka
I joined Grab to not only earn additional income for my family but also to help others who could not go out to get their food during the MCO.  As a 54-year-old, I had to find ways to earn supplemental income in addition to my husband's pension, as we needed to take care of my mother who needs medical assistance while  caring for  my school going kids. Working in a predominantly male field has taught me to be patient, given me strength and the understanding that  all of us are capable to work in any field no matter whether you are a male or female. I #ChooseToChallenge and be positive – go ahead if you desire to do something new. So challenge yourself in everything you do and stay strong.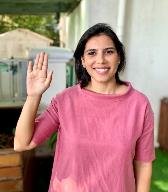 Priyanka Madan – Head of Grab Financial Malaysia
I lead an energized team, responsible to educate, strategise and execute initiatives for our financial products on the Grab platform. It truly is a great opportunity for us to plan for ways to support the underserved communities and address the gap in the financial industry. I #ChooseToChallenge my own insecurities each day and choose to fight the limits that I have probably set for myself, and instead be creative enough to find solutions to help me overcome those. I celebrate every small and big win of mine.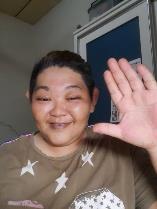 Tang Ya Mei, Delivery-partner from Johor
As a person who is deaf, it has been a struggle for me and I faced loads of disappointments. I am a full time delivery-partner and nothing brings greater excitement than fulfilling a lot of orders. It is difficult for me comparatively, but that does not stop me from working hard. I value the freedom that comes with this where it focuses on my ability and not disability. I #ChooseToChallenge other women to work based on their ability and do not have any doubt if you want to join the field of delivery-partners.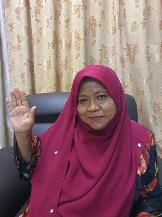 Siti Zubaidah Binti Hassan, Merchant-partner from Selayang
I joined the platform during the initial MCO, as I was struggling to keep my business afloat. I was unable to deliver my frozen items directly to my consumers because of restricted movements and roadblocks. Getting onto the Grab platform has helped me solve the issue of delivery, increase my customer base and most importantly helped me stay afloat. I #ChooseToChallenge women to just do it – if you want it, go for it and make it all yours!  I have learned that anything is possible as long as you are brave to run your own business and face any challenges head on.
Ting Ee, Driver-partner from Bintulu
My passion is driving and I enjoy the freedom as well as the flexibility that comes with what I do. With 2 young children it allows me to manage my time accordingly and has provided me with the opportunity to earn income after I had to shut down my business due to the pandemic. As part of a minority of women driver-partners in East Malaysia I share my story and encourage others in my community to strive to do better. I #ChooseToChallenge women to have strength to try new things – share your story as well as experience to encourage other women or men to do the same.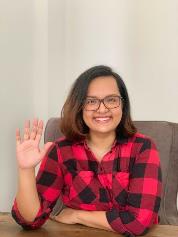 Naomi Say – Head of Platform Safety, Malaysia
The pandemic has forced all of us out of our comfort zone. As I continuously look for ways to ensure the safety on the platform, my team and I have found new ways to adapt to the new norm, still pushing through all our processes and initiatives, every small win is big for us. As my job is ensuring that the Grab platform is safe for all partners and our community of users, every single thing that we do, no matter how small it is, is monumental because it can impact someone's life. I #ChooseToChallenge myself to be braver by conquering my fears and insecurities, one day at a time. When you start with yourself, you inspire people around you.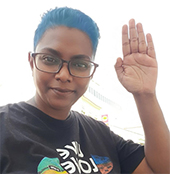 Gunasundari Purasamy, Driver-partner from Penang
As a single parent, I turned to Grab to earn an income so I could support my 2 kids. My husband died when I was pregnant with my 2nd child and it has been challenging dealing with all the responsibilities as a single mother. There have been criticisms from family and friends that women should and are not supposed to be e-hailing drivers, but I ignore their comments and continue to drive.  I am just grateful that, even though with the impact of the pandemic, I am still able to support my family with my income and it is safe. I #ChooseToChallenge that we make everyday a better day for everyone regardless of who they are and where they come from.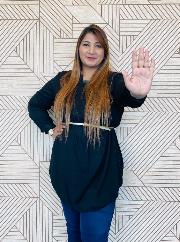 Maslina Rahman – Head of Customer Experience, Malaysia
I lead a strong team that supports our partners and users of our platform through different support channels such as Voice Call, Email, Chat and Automations. A journey that the team and I strive to provide information, solutions and manage expectations of our partners and consumers. I #ChooseToChallenge by stepping out of my comfort zone as I believe that there are no barriers for women to excel; so I could be an inspiration as well as a role model for my young children and women with similar family commitments.
Grab supports the millions of women in Southeast Asia to strive for their dreams and create impact in their communities.
#IWD2021 #ChooseToChallenge #GrabIWD2021 #WomenAtGrab