Locally-produced movie 'MALBATT: Misi Bakara', delectable traditional dishes, and exclusive cinema promotions await you this August and September!
Kuala Lumpur, 28 August 2023 – Leading cinema exhibitor, Golden Screen Cinemas ('GSC') is celebrating Malaysians' favourite past-times with its #Malaysiaku campaign in conjunction with Merdeka month. Malaysians can look forward to an exciting line-up of food offerings, cinema and merchandise promotions and the release of the highly anticipated movie, MALBATT: Misi Bakara. 
The untold story of Malaysian heroes in MALBATT: Misi Bakara
Based on the true story of the Battle of Mogadishu in Somalia, MALBATT: Misi Bakara tells the inspiring story of the nation's unsung heroes, the Malaysian Battalion that prevailed in times of courage to rescue trapped American Soldiers following the Black Hawk Down attack. A film that closely resonates with the hearts of Malaysians, MALBATT: Misi Bakara is the first ever locally produced movie to be shown on IMAX screens nationwide, providing movie-goers with an immersive cinematic experience.  MALBATT: Misi Bakara will see an exclusive early preview on IMAX screens nationwide on 18 August, with all other movie formats released on 24 August at cinemas nationwide. 
'As a homegrown brand, we're uniting Malaysians from all walks of life to celebrate our favourite past-times which include movies and food with the #Malaysiaku campaign throughout Merdeka month. Continuously providing movie-enthusiasts with unique experiences including the timely release of locally-produced movie, MALBATT: Misi Bakara along with exclusive movie themed merchandise showcases appreciation towards our customers who have shown their support throughout the most challenging times, and we look forward to more exciting times ahead," said Ms. Koh Mei Lee, Chief Executive Officer, Golden Screen Cinemas.  
Providing movie-goers with a complete experience, a limited-time only combo 'Gemilang' awaits you at selected cinemas nationwide! *  This Merdeka month, celebrate our beloved nation with a Jalur Gemilang inspired popcorn box, which comes with 1x regular popcorn, 1x So Tinge beverage, 1x mineral water, and 1x limited edition Spritzer tote bag for only RM16.50!
This limited time only 'Gemilang' combo will be available from 10 August – 17 September, whilst stocks last. 
Delight your senses with our take on Malaysian fan-fare at Happy Food Co and JIN Gastrobar 
Food plays an instrumental part of Malaysian culture, in bringing us together regardless of where we are. As a home-grown brand, GSC's F&B outlets, Happy Food Co. and JIN Gastrobar is serving up a range of well-loved Malaysian dishes for a limited time only.
From 17 August – 30 September, Happy Food Co. presents the 'Rasa Sayang' combo, serving up a tantalising mamak-inspired combination with the all-time favourite murtabak paired with a curry sauce for an added kick. Taking Happy Food Co.'s signature milkshakes down memory lane, Malaysians can satisfy their cravings with the Dinosaur Milkshake – a malty, chocolaty blend topped with a generous dollop of chocolate malty powder for a sweet finish.
Enjoy the delicious Rasa Sayang combo for RM20 at Happy Food Co. located at GSC IOI City Mall 2 (East) and Happy Food Co. at LaLaport BBCC! 
Enjoy a fusion of traditional local flavours with a specially curated set menu in collaboration with BOH Tea at JIN Gastrobar, The Gardens Mall KL and The Mall, Mid Valley Southkey JB. Let your tastebuds tingle with the aromatic Nasi Ulam Sirih Purut or Rooibos tea infused herb-crusted lamb served with russet potatoes, complete with dessert – the petite strawberry trifle and a choice of drinks – either the all-time favourite Teh Tarik or the BOH Gunung Chantik tea – a zesty black tea with a sweet note.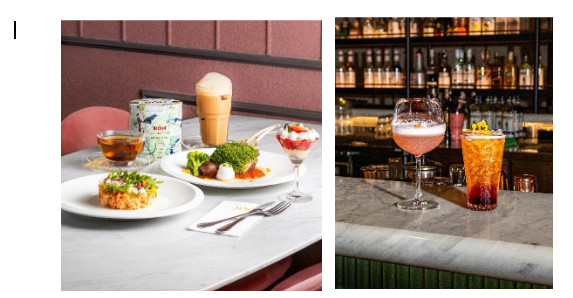 The delectable Nasi Ulam Sirih Purut set is priced at RM66 and the herb-crusted lamb set is priced at RM36!
Inspired by floral hints of our national flower, Bunga Raya, diners can also enjoy a Hibiscus Citrus Fusion mocktail or opt for an Independence Blossom cocktail.  
Show that you're a proud Malaysian with exclusive merchandise from Keepsake
There's no better way to show that you're proud to be Malaysian than with our exclusive range of Merdeka Day themed merchandise, inspired by iconic Malaysian elements, available at our Keepsake stores on-ground or online! 
Be your own hero with the MALBATT: Misi Bakara canteen bottle, or show your love for the nation with an adorable Hello Kitty tumbler collection adorned with Malaysian themed elements, from the beautiful Bunga Raya, king of all fruit – Durian, well-loved Nasi Lemak and the traditional Wau.
For more information on the #Malaysiaku campaign, stay tuned to GSC's social media platforms.