Participate in a Spotlight challenge with global singing icon Mariah Carey, enjoy 40 new Lenses, Valentine's themed Actionmojis on Snap Map, and Cameos for Chat, Preview & Stories.
It's officially the season of chocolates, roses, and heart-shaped everything. Of Snapchatters celebrating, 82% plan to spend the day connecting with the most important people in their lives.1 While Valentine's Day is about love and romance, it's also about celebrating friends and other important relationships. What better place to connect than on Snapchat?
40 New AR Lenses You'll Love
Let AR be your love language this Valentine's Day! Starting this week, Snapchatters globally can expect to see 40 new Lenses start to trickle into the Lens Carousel. From Anime & cartoon faces to vomiting heart-shaped crowns, cuddly bears, and flying cupids, there's a wide variety of Lenses you can choose from to fit your V-Day mood.
Spotlight Challenge with Mariah Carey
Snap also presents a perfect opportunity for its users wherein they can showcase their ideal V-Day celebration with the "Always be my baby" Spotlight challenge hosted by none other than global singing sensation Mariah Carey.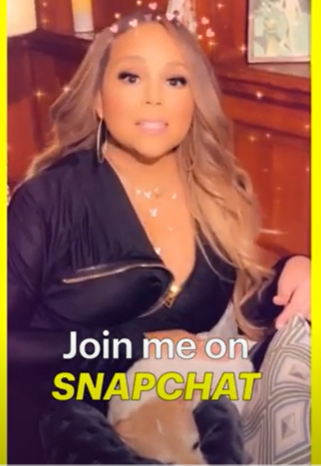 The challenge requires Snapchatters to create a Spotlight and showcase their version of Valentine's Day celebration using the "Always be my baby" audio. You can view the entire challenge here: https://youtu.be/vxXQa2kWTxI
Actionmojis on Snap Map
Even your digital self can spread love with Actionmojis. Only available on Valentine's Day, you'll be able to choose from 8 new Actionmoji poses on the Snap Map. Planning your Valentine's Day night out? Catch a glimpse of their digital V-Day look when your friends are enroute to your house right from Snap Map!
Valentine's Themed Cameos
This year, we're also releasing new Cameos for Valentine's Day. Snapchatters can select between 20 new Cameos options within Chat and Preview to personalize conversations even further. You can also browse through existing love-related options/content within the app and watch 2 new V-Day-related Cameos Stories, featuring you and your best friend or partner!
Cameos are a fun and personalized way to communicate with friends this Valentine's Day, as you can choose from hundreds of expressive (and hilarious!), looping GIFs & Stickers that can easily be shared in Chat, layered onto any Snap or Story you create, and more.
Beauty Experience with Try-On Lens
Snapchat is also making it easy to try on the perfect lipstick shade in AR – just in time for Valentine's Day, with a new beauty experience from Kaja Beauty. You can now try on various shades of lipstick with Kaja Beauty Lens to see which look would suit you best before you glam up for date night.