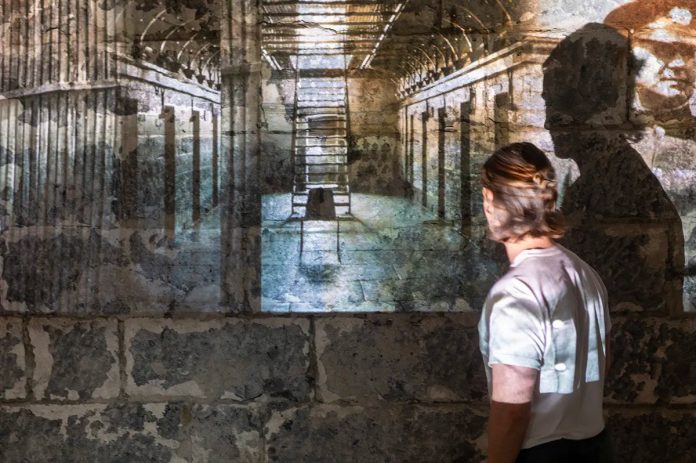 The month of April will see brand new experiences that bring guests on a multi-faceted journey filled with  memorable insights, immense wonder, rich history, and unforgettable beauty. From an immersive prison  experience to serenity beneath the stars, see Australia from new perspectives
Pentridge Tours (Melbourne/Narrm, Victoria): Melbourne/Narrm's infamous Pentridge Prison is set to open its  gates to the public with the new Pentridge Prison Tours. Designed in collaboration with experimental design  company, Art Processors, who worked on installations for the Museum of New and Old Art in Tasmania, this  new and improved tour delivers a fully immersive experience inside a heritage-listed prison that dates back to  1851. As visitors explore the rich history of the prison and the brutal day-to-day life of an inmate in Pentridge  Prison, they will also be guided through the cells with a recorded voiceover from former inmate, Uncle Jack  Charles and Indigenous Australia actor, Rachael Maza.
Cultural Cruise (Sydney/Warrane, New South Wales): Tribal Warrior has added a new experience to their  catalogue with the addition of Cultural Cruise. Jump aboard the Mari Nawi (Big Canoe) and learn about the  traditional culture, history, and stories of one of the most beautiful harbours in the world. Hear stories of the  Gadigal, Guringai, Wangal, Gammeraigal and Wallumedegal people of Sydney Harbour and learn the Indigenous  names and meanings of significant Sydney/Warrane landmarks, before stepping ashore on Be-lang-le-wool  (Clark Island). Apart from that, you'll also get to learn about life pre colonisation, from coastal lifestyles,  traditional Indigenous fishing methods to food gathering techniques, and witness a traditional Indigenous  cultural performance.
Mountain Bike Under The Stars (Alice Springs, Northern Territory): The Red Centre of Australia is truly a sight  to behold, especially as the sun starts to set. With hundreds of kilometres of bike tracks built by hand by  mountain bikers for mountain bikers, join Red Centre Adventures on the Mountain Bike Under the Stars tour  and get up close to the stunning natural scenery. Experience the serenity of Simpson's Gap at night, then treat  yourself to some local native cuisine, all while being immersed in the stories of the local Arrernte culture told by  an experienced Indigenous Australian guide.
Australian Geographic: Our Country 360 Cinematic Experience (Brisbane/Meeanjin, Queensland): Visitors to  Brisbane/Meeanjin will soon be able to surround themselves with Australia's unique landscape, wildlife, and  natural beauty. Launching at the Brisbane Convention and Exhibition Centre, Australian Geographic: Our Country  360° Cinematic Experience is a 40-screen multi-sensory experience that provides a never-before-seen  perspective on Australia's breath-taking wilderness, celebrating the grandeur and diversity of Australia's wild  places, backed by the sounds of nature.
Bruce Munro's Light Towers (King's Cannon, Northern Territory): Newly opened on 1 April, bask in world renowned British light artist, Bruno Munro's latest illuminating experience, 'Light Towers'. The experience is a  magnificent display of 69 towers, each made up of approximately 220 bottles filled with fibre optic cables. Set  inside Discovery Resorts – guests are invited to wander in this maze of Light Towers during one of the three  available viewing sessions: Sunrise, Sunset, and By Night. Immerse in this unique light experience with colours  changing to the celestial soundscape by Orlando Gough.