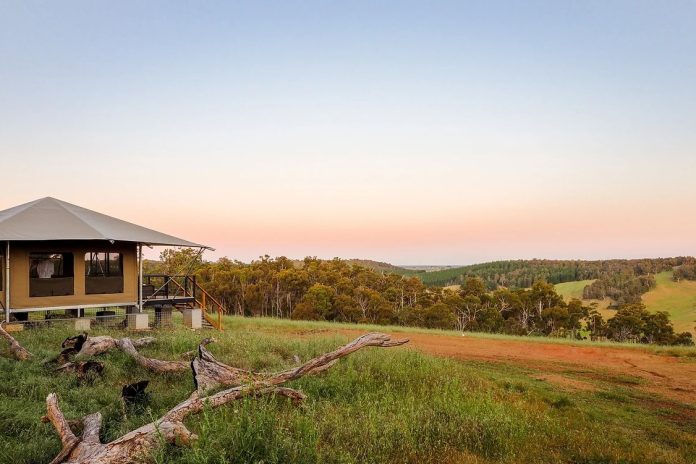 Looking for a room with a view? Australia is renowned for spectacular sceneries, and these spectacular new  stays are built to showcase these amazing sights.  
Whether it's glamping in the midst of private picturesque forest trails and open fields, or modern beachfront  living with unspoilt ocean panoramas, these spots have the wow factor to complete an incredible itinerary.
Breathtaking views await at Serenity Gully's luxuriously appointed, eco glamping tents, nestled high in the hills  above heritage-listed Bridgetown. Photo Credit: Serenity Gully 
Serenity Gully (Bridgetown, Western Australia): Serenity Gully is where nature meets luxury. A new luxury off grid glamping experience overlooking Bridgetown and the Southern Forest and Valleys region, Serenity Gully is  one of the few accommodations that offers an immersive experience of the magnificent Jarrah forest. A perfect  retreat from the hustle and bustle of city life, soak in an outdoor stone bathtub on your tent's private deck, as  the songs of native birds serenade you and a gentle breeze whisper through the leaves of the towering Jarrah  forest surrounds. Serenity Gully is also one of the few accommodations offering private walking trails of 478  acres of private picturesque forest trails and open fields, filled with grass trees, banksia, and wildflowers. 
Private Properties: Marmaduke and Oceanic (Dawesville and Margaret River, Western Australia): Beachfront  living with ocean panoramas doesn't get any better than Marmaduke and Oceanic, Private Properties' two new  holiday homes in Western Australia. Warm and cool converge at Marmaduke – a modern beach house that  awards guests with perfectly framed views of the dreamy Gnarabup coastline. Located on the shores of Melros  Beach near Mandurah, Oceanic in Dawesville is a modern contemporary beach house that is spacious yet  intimate, great for families or close friends. It's easy to spend hours (or days) watching the waves roll into the  shore, especially on Oceanic's large upstairs viewing deck and adjoining master bedroom. 
Burrawang House (Southern Highlands, New South Wales): New South Wales' Southern Highlands is known for  its lush rolling hills and green pastures, and the new Burrawang House is the best place to experience the region.  Tucked away in one of Australia's most beautiful villages and surrounded by 100-year-old trees, the new luxury  country retreat marries the aesthetic and feeling of an old estate with the amenities and quality of a modern  home. With large entertaining spaces and amenities you'll find it hard to leave this luxury home, but guests are  encouraged to explore the village and enjoy a truly rural escape within walking distance of a great pub and cafe.
Sugar Rock Ranch (Eden, New South Wales): Wake up to some of Australia's wildest landscapes in Sugar Rock  Ranch, deep down on the Far South Coast of New South Wales. Surrounded by the Beowa (Ben Boyd) National  Park, the ranch is only a stone's throw from the Pinnacle rock formations that are sky high and deep in colour,  the coast lines are filled with long empty beaches where the oceans really are that sapphire blue they boast to  be. A rustic cabin set on a cattle homestead in stunning Sapphire Coast bushland, the ranch marries the features  of an urban hotel with the authentic feel of a lovingly hand-built cabin.