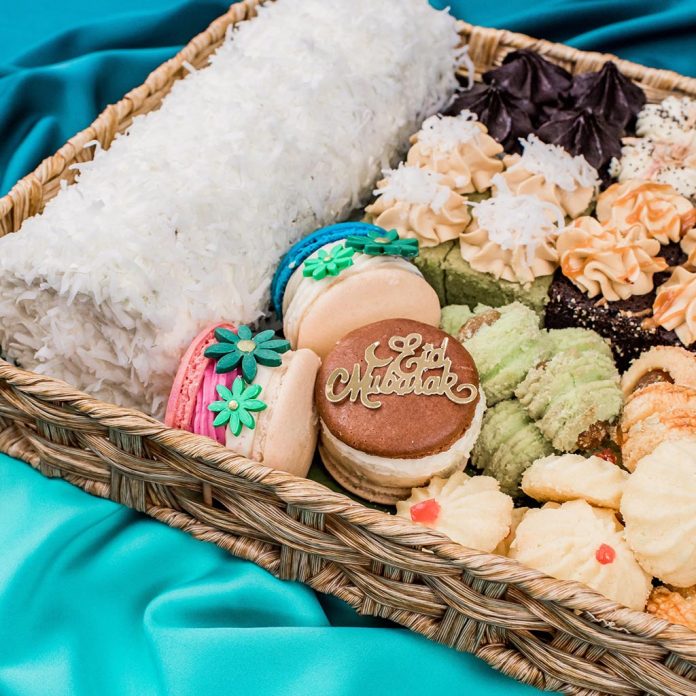 Kuala Lumpur, 1 April 2022 – Malaysians are looking forward to celebrating Hari Raya Aidilfitri as the Holy month of Ramadan is just around the corner. With Raya songs playing in the neighbourhood, homegrown patisserie brand, Elevete Patisserie is ready to serve you with another year of their in demand Hari Raya Collection. This special collection will be available from 2 April to 4 June 2022 exclusively on Elevete's website, ready for you to elevate your Ramadan and Hari Raya Aidilfitri celebration. 
Elevete Patisserie started off with the ultimate goal of making the most sought-after macarons in town. Not forgetting its roots, the chef has crafted the seasonal Aidilfitri Fatcarons making it the highlight of their Raya collection. Inspired by popular Raya desserts, the festive flavours of coconut sago gula Melaka, pulut tai tai, and sirap bandung are now reinvented to become enticing fatcarons. These all-new flavours will be added to Elevete's permanent fatcarons collection for you to bring them back home this Raya.
Ketupat ties to the tradition of Hari Raya Aidilfitri and it serves as the all-time staple dish. This Ramadan, Elevete is here to enliven your dessert table with its reformation of the ketupat, named Kenangan Manis. Carrying the meaning of "Sweet Memory", this ketupat is a fresh pandan chiffon sponge, put together with Elevete's signature gula Melaka buttercream. You'll be impressed to taste the best of both worlds of this modernised yet immersive ketupat with the touch up of the coconut buttercream swiss meringue and coconut gula Melaka chocolate truffle in the shape of ondeh-ondeh. 
Hari Raya is all about getting together with your family and friends. Besides preparing delicious festive dishes, have the Buah Tangan as a Raya gift to warm your guests' hearts. "Buah Tangan" means souvenirs in Malay. Comes in a set of three jars, your guests will surely be delighted by this combo of Elevete's Pineapple Tart, Semperit cookies with cherries, and Almond London. 
Sweeten up your dessert table with these lovely Raya delectables during this Ramadan. Meriah Treasure has successfully made its comeback as the Malays say it has really lived up to its name. "Meriah" which brings the meaning of celebrating with happiness, is a treasure platter gathering six flavours of cake bites with six pieces each for your party table. Not enough to hype the party up? Get the set at a doubled size for 24 pieces of each flavour!
Next up on the menu, we have Roulade Rasa Sayang, a mid-size sharing plate of light and fresh pandan sponge roll layered with swiss meringue coconut buttercream and gula Melaka syrup. It's a piece that brings out the familiar flavour of the traditional kuih, ondeh-ondeh. Looking for something new? Try out the Bunga Telang Bar, a cake version of the chef's favourite kuih – Pulut Tai Tai. Inspired by it, this cake bar is layered with modern sous vide kaya, pulut tai tai and light coconut buttercream. It's either green or blue!
If you are the type who just wants to try every item at a buffet, Elevete has fulfilled you with the Aneka Aidilfitri. Putting together slices of their Raya delicacies including the Roulade Rasa Sayang, Meriah Treasure, Buah Tangan and AidilFitri Fatcarons, this platter is also inclusive of the Bunga Kantan Macaron to bless your taste buds. Speaking of this Bunga Kantan Macaron, it will also be made available this season, to join the Box of 12 Assorted Macarons in Elevete's permanent menu, named Ramadan Manis Macarons. Additionally, Elevete will be offering an option that has a themed sleeve wrapped around the macaron box to suit the occasion, making it a cherry on top for your loved ones in this spirit of gifting and generosity during Ramadan.
Are you a cupcake lover? Opt for the Eid Mubarak Cupcakes this fiesta, topped with sugar-coated Raya elements on Elevete's signature cupcake line-ups which are pandan, red velvet, and butterscotch.
Elevete Patisserie's Ramadan and Raya Special is now available online on Elevete Patisserie's official website. Pre-order your choice of their Hari Raya collection now at https://www.elevete.com.my/collections/ramadan-raya-2022.