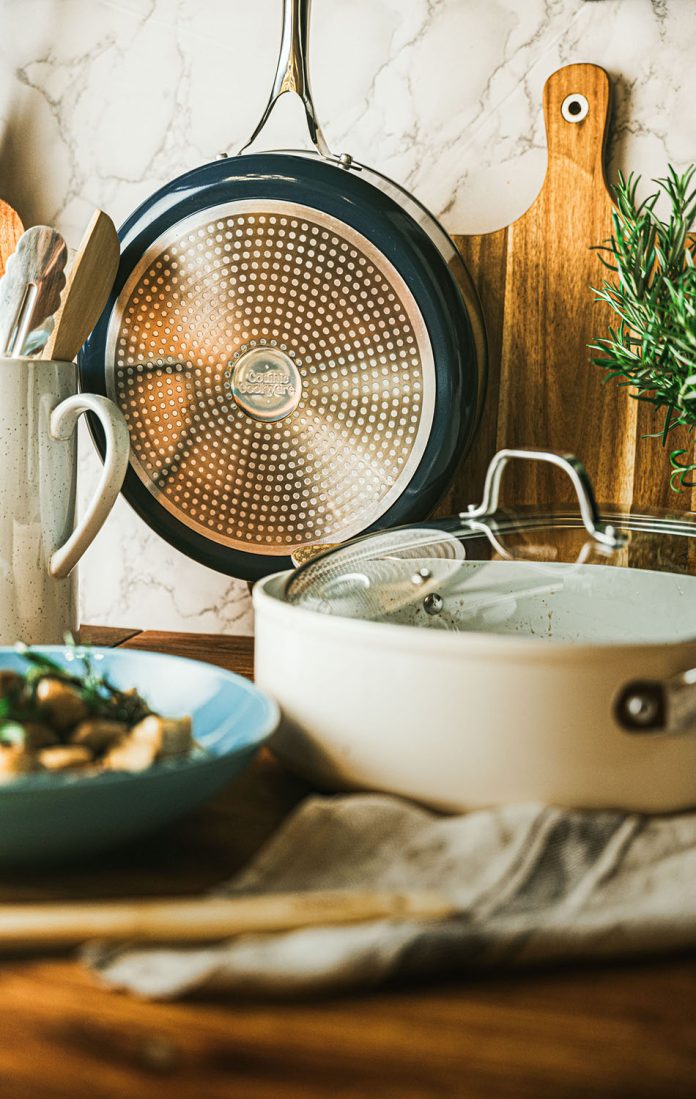 The Locally Grown Brand That's Loved By Homecooks
Here's RM10 OFF on us!
Apply the code at checkout.
The promo code is valid with no minimum purchase required until October 31st 2022, limited to one use per customer.
Cookware That Cooks As Good As It Looks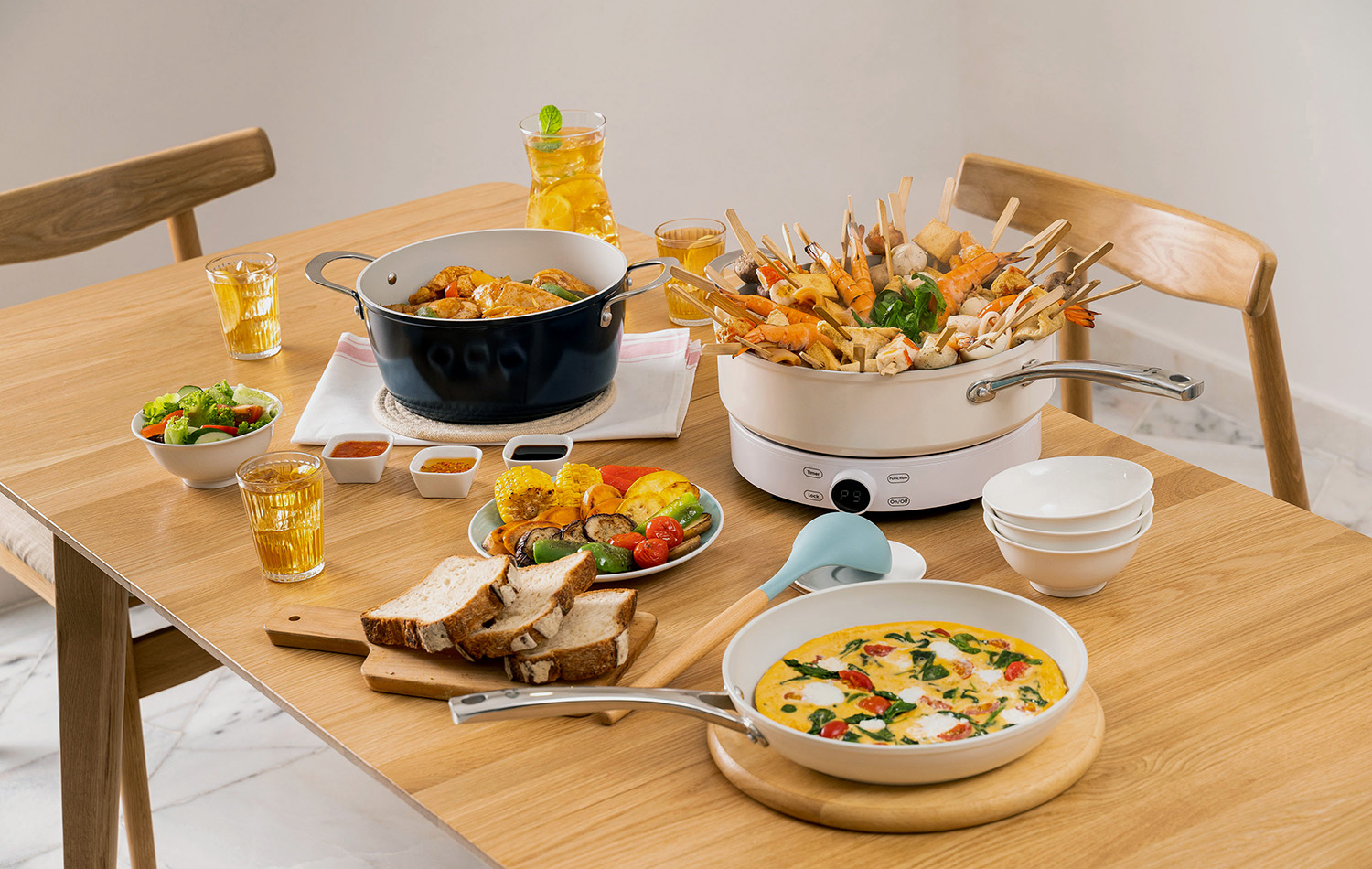 Ever wondered if practicality and aesthetics could be merged into creating something life-changing? Well, the team at Cosmic Cookware has made it happen. Thoughtfully created and beautifully designed, this Malaysian homegrown brand has inspired many homecooks to switch to their non-toxic ceramic coated cookware that's made for the modern kitchen.
Cosmic Cookware began with a sole purpose; to craft well-thought home goods made to be true companions in the kitchen. It was their intention to help homecooks of all levels not only own cookware that will elevate their cooking experience but also match their lifestyle.
When conceptualising new designs, eorts are placed into ensuring that its free of forever chemicals, aesthetically designed, and eortless to use. Not only are Cosmic products made without toxic materials like TEFLON (PTFE), PFOA, Cadmium, Lead, and other "forever chemicals", each cookware is coated with Swiss-certied ILAG ceramic coating that's guaranteed to be non-toxic and non-stick. Now, ready to nd the cookware that ts you best?
Cosmo Casserole
The Cosmo Casserole looks like an industrial stock pot but with a broader base and shorter walls, making it better suited for homecooks. It also comes with two short handles on either side for balanced and steady transferring. Designed for low and slow cooking, it's a star for soups, stews, and even baking! Yes, you read that right. Baking! The Cosmo Casserole is oven-safe for up to 230° C. It's the perfect vessel for baking a crisp crust and soft loaf of sourdough bread. Aside from that, you can enjoya roast with it, as it has enough room to t awhole chicken or pot roast. What's the secret to a perfect sear? The Cosmo Fry! Just 800g in weight and 24cm in size, the Cosmo Fry is practical and convenient to manoeuvre. It has an ergonomic stainless steel handle for a sturdy grip, and its high-side curved walls are intentional, so every ingredient stays in the pan. With the Cosmo Fry in your hand, be a star in you kitchen as you whip Sunday breakfasts and Friday night steaks with less oil, thanks to its non-stick surface. Plus, cleanups will be easy too. RM169 Each
Cosmo Pan
The Cosmo Pan is a one-pan wonder, a go-to for quick and easy meals, and the best for families and meal preps. The generous 28cm diameter and high vertical sides make it versatile for all kinds of dishes, from quick one-pan meals to stir-fries. The Cosmo Pan has a clear glass lid for easy monitoring and an ergonomic stainless steel handle for a sturdy hold. Beautiful from stovetop to table, its stunning design complements any kitchen interior. It adds a pop of colour to the room no matter where it's placed.  Here for breakfast, lunch and dinner, the Cosmo Pan is the kitchen tool that will improve your kitchen experience. Cosmo Casserole The Cosmo Casserole looks like an industrial stock pot but with a broader base and shorter walls, making it better suited for homecooks. It also comes with two short handles on either side for balanced and steady transferring. Designed for low and slow cooking, it's a star for soups, stews, and even baking! Yes, you read that right. Baking! The Cosmo Casserole is oven-safe for up to 230° C. It's the perfect vessel for baking a crisp crust and soft loaf of sourdough bread. Aside from that, you can enjoy a roast with it, as it has enough room to t a whole chicken or pot roast. What's the secret to a perfect sear? The Cosmo Fry!Just 800g in weight and 24cm in size, the Cosmo Fry is practical and convenient to manoeuvre. It has an ergonomic stainless steel handle for a sturdy grip, and its high-side curved walls are intentional, so every ingredient stays in the pan. With the Cosmo Fry in your hand, be a star in you kitchen as you whip Sunday breakfasts and Friday night steaks with less oil, thanks to its non-stick surface. Plus, cleanups will be easy too. RM169 Each