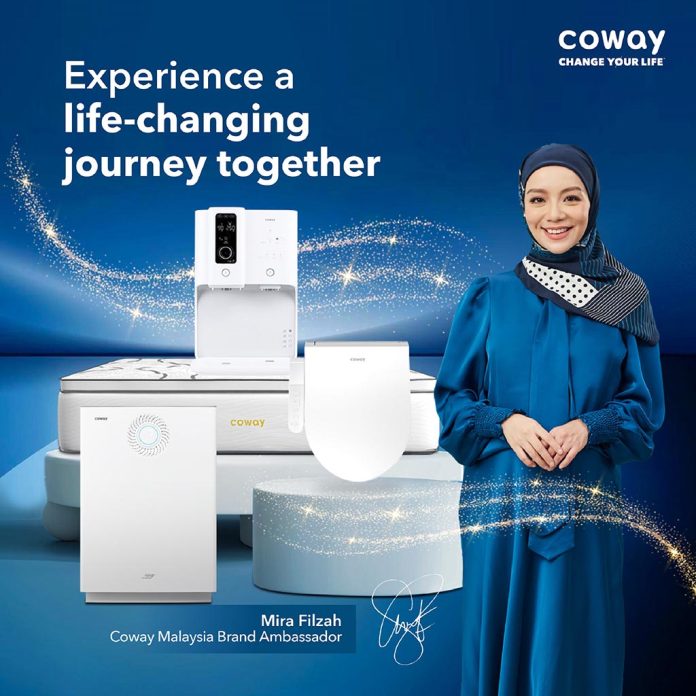 Coway and Mira Filzah embark on a Life-Changing Journey Together
KUALA LUMPUR, 31 March 2022 – Malaysia's ultimate 'girl next door' Mira Filzah has officially been appointed as local brand ambassador for Coway Malaysia. Together, the two locally prominent household names will be aspiring to change the lives of all communities nationwide, one community at a time. 
The actress, model and entrepreneur has won over Malaysian hearts, with over 7.3 million followers on her Instagram account. Her name has since become synonymous to terms of endearment, and similar to Coway Malaysia, she is a strong influence on leading healthier, happier lives. With Mira being part of the Coway family, the Best Life Solution Company hopes that this partnership will help elevate Coway's brand presence in Malaysia as they venture on a life-changing journey together.
"We are thrilled to have Malaysia's iconic sweetheart on board and we believe that she is the perfect fit as Coway Malaysia's brand ambassador. Not only is her presence in the local scene huge, but she is also adored by many and her beliefs are in line with our 'Cowayian' spirit.  We can foresee this union to be one that is filled with excitement, especially from our loyal customers who are also her fans. Together with Mira, we at Coway will continue to improve the lives of all Malaysians for a healthier, greener and happier tomorrow," said Kyle Choi, Managing Director of Coway Malaysia.
Previously, Mira also had the chance to become a Cody (Coway Lady) for a day, where she followed a Cody to carry out product servicing in customers' homes. Just by her being Cody for a day, she was able to help raise awareness among her followers about this job opportunity that is highly suitable for single mothers and mothers with little children at home. 
"We do think this is a great way to reach out to the other mothers out there who are looking for a stable, high-income job. They can become the boss of their own work schedule and at the same time have more time for their own families," said Choi.
Aside from that, Coway Malaysia also wish to further strengthen its position as a brand that is family-oriented via this collaboration, with products and services that can improve the lives of all Malaysian families. With Mira being pregnant and about to embark on the next chapter of her life, she is the most ideal person to share how Coway has played a part in improving her everyday life during pregnancy and also her new family's life in the future.
"I'm honoured to be chosen as Coway Malaysia's brand ambassador and I cannot wait to change the lives of communities together with Coway. I have always been a huge fan of Coway's products and I love how their smart innovations can change lives for the better, bringing convenience and easier healthy lifestyle to me and my family. I am extremely excited to work with Coway and I cannot wait for what lies ahead," said Mira, who is about to turn one year wiser on April 2.
As her birthday fast approaches, Coway Malaysia would like to seize this opportunity and wish Mira a very Happy Birthday, and may she be blessed with all the good things in life. To all of Mira's fans out there, do look out for Coway's upcoming exciting campaigns and products that will feature her in the upcoming months.
For more information on Coway Malaysia, kindly visit https://www.coway.com.my/