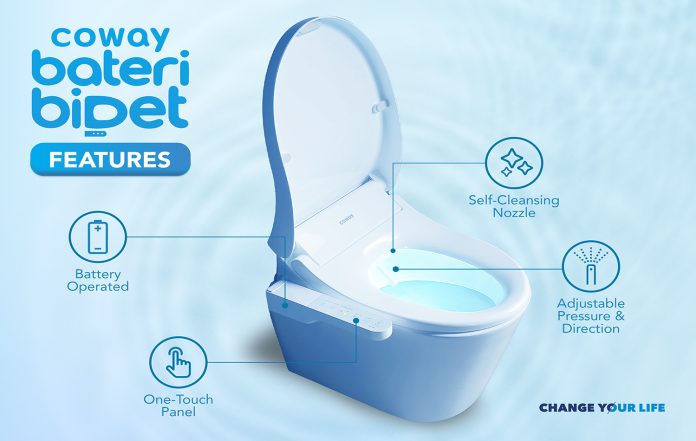 The Best Life Solution Company, Coway takes a stand and pledges for cleaner, hygienic and sanitary toilets in Malaysia, in conjunction with World Toilet Day 2022
KUALA LUMPUR, 14 November 2022 – Malaysian public toilets in general, have a reputation globally for being damp and unhygienic over the years. They are either filled with the pungent smell of ammonia or wet floors covered with stains of splashes. While hygiene and good sanitation are basic necessities, the awareness level of keeping public toilets clean and free from vandalism is still sorely lacking to date. These unsanitary toilets shine a spotlight on how Malaysians face the risk of disease spreading and waste contamination that leads to health issues.
Recently, it has been reported that 61% of public toilets in Malaysia are off-putting and only a miserable 3.4% were rated five stars. Another 10% were in such bad condition that not even one star could be awarded. Findings by the Local Government Departments in Malaysia further showed the majority of public toilets in their respective jurisdiction to be in unsatisfactory conditions.
The irony is that hospitality is in the hearts of all Malaysians and this is a globally known fact. So, why does Malaysia's reputation for good hospitality stop at cleanliness? Clean toilets should be the core of good hospitality because as we welcome guests into our home, we want them to feel safe and comfortable. This includes providing sanitary facilities which is a basic need for all of humankind. 
In a bid to raise more awareness about the importance of hygiene and having sanitary toilets, World Toilet Day which falls on November 19 annually has been observed worldwide since its inception in 2013. It carries a crucial message aimed at tackling the sanitation crisis on a global level – a crisis that affects billions of people worldwide.
Themed "Making the Invisible Visible", this year's World Toilet Day aims to explore how poor sanitation systems especially in rural areas have spread human waste into rivers and lakes, polluting underground water resources. With groundwater being the most abundant source of fresh water, poor sanitation will ultimately pose a problem to everyone. In Malaysia, there is still a huge number of marginalized communities living in rural areas that have no access to clean water and proper sanitation systems, living in dirty and unsanitary conditions.
In conjunction with World Toilet Day 2022, we as a nation should take a step forward towards having better toilet hygiene – be it in private toilets or public ones and push for better sanitary systems for all communities.
To kick off this pledge, Coway Malaysia is proud to advocate for cleaner water and proper hygienic sanitation systems. One of them is their ongoing Happy Water Project which aims to provide clean water to over 1,000 Orang Asli families as well as the underserved community. 
Through its innovative products and services, Coway also strives to raise awareness about good personal hygiene through lavatory-related hygiene practices and good toilet etiquette to ensure all toilets are cleaner, which will ultimately lead to a healthier nation. Some common but usually overlooked etiquette include Basic Toilet Training, Keeping Toilets Dry, Disposing Wastes Properly, Respecting Other Toilet Users and Washing Hands.
The simplest Basic Toilet Training practices that should be common sense by now is to not step on or soil the toilet seat. Simply put, nobody wants to use a dirty toilet seat that is filled with germs from shoe soles, which can be quite an eyesore. For those who use the toilet standing up, lift up the seat before use and then close the lid and flush before leaving the cubicle. For those who sit on the toilet, flush and close the toilet lid before leaving the cubicle.
Next, toilets can be kept dry by keeping the water spraying to a minimum, limiting it within the toilet bowl area and avoiding wetting the rest of the cubicle. Also, do wipe any residue left on or in the toilet bowl once done. 
Waste should also be disposed of properly as not everything can be flushed down the toilet bowl. This may cause toilets to get clogged, which ultimately leads to a backflow of waste. To prevent this, discard waste into the designated disposal bins provided. 
When using public toilets, users should learn how to respect other users by keeping the toilet seat and floor dry when using the facility. Always remember to flush after each use and do a quick check to ensure everything in the toilet bowl is flushed down completely, leaving the cubicle clean and ready for the next user. 
Washing hands is another important task after using the lavatory and this step should not be skipped as it poses a hygiene and sanitary risk. While washing hands, always ensure soap is used and lather both sides of your hands, between the fingers, under nails and scrub for at least 20 seconds. Then, rinse thoroughly under running water and keep all washing within the basin and avoid splashing. Lastly, dry hands thoroughly with either a dryer or tissue and avoid dripping water onto the floor or other common areas as wet floors can be hazardous. 
Being the Best Life Solution Company that is always at the forefront of technology, it is no surprise that Coway has also come up with a smart technological invention to tackle lavatory-related hygiene and sanitary issues, with its revolutionary BATERI Bidet from the Coway LooLoo Bidet Series. This state-of-the-art breakthrough invention is an equipment that sprays water to clean after ourselves.
With this smart gadget attached to the toilet bowl seat, users no longer have to lift a finger to clean up, as this self-cleansing bidet makes cleaning a more hygienic and convenient solution for all. This also comes with a safety aspect as it prevents bathroom floors from getting wet, reducing the potential slip and fall accidents, especially for the elderly or children.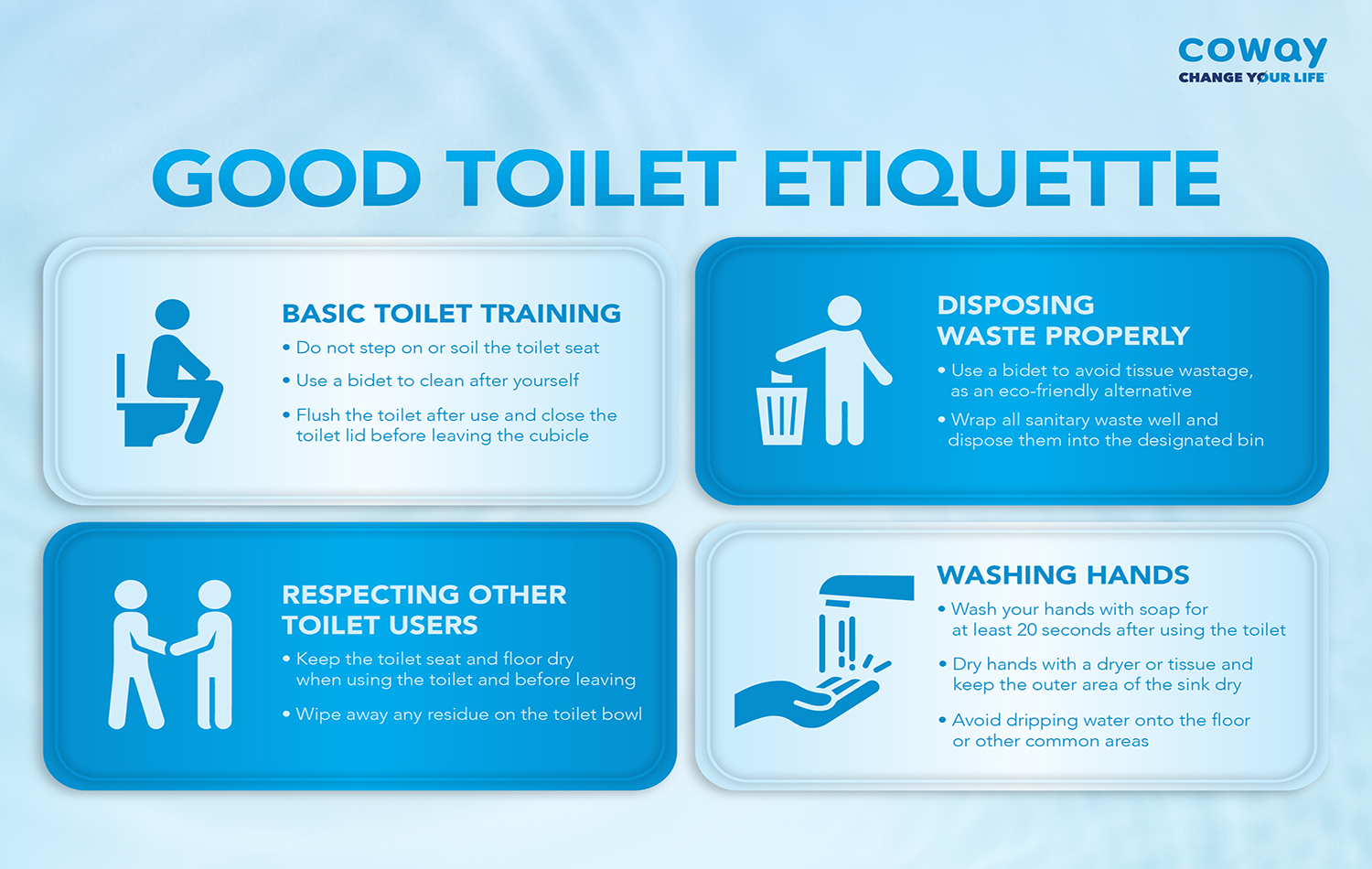 In addition, the use of bidets comes with health benefits as it prevents and improves the management of bladder infections, haemorrhoids, constipation, urinary tract infections and also helps maintain good prostate health in men. It is also a convenient blessing for the physically challenged, the elderly, children, pregnant women and patients who have limited mobility after surgery. 
Coway's BATERI Bidet is all that and more, equipped with smart features and is fully battery-operated, conveniently fitting onto toilets without the hassle of needing any wall sockets. It is also user-friendly with a one-touch panel that offers seamless and versatile control for different cleaning positions to fit people of various profiles. The bidet also comes with two water pressure controls and four directional water settings so it is completely customisable for each user. 
Meanwhile, there are also seat sensors that allow the bidet to only activate upon detecting a human's sitting weight to avoid accidental splashing. This is an excellent child-proof friendly feature to have as it prevents curious young minds from pushing every button on the bidet at home when not in use. It also comes with a self-cleansing feature that cleans automatically to prevent the spread of germs before and after each use. 
Coupled with a slim and functional design, the Coway BATERI Bidet is space-saving and sleek in any toilet. What's more, users can opt to get their bidet serviced once every four months, where the bidet nozzle is cleaned for extra hygiene and protection for peace of mind.
Cleanliness and hygiene are of utmost importance especially in toilets and the first step to ensuring sanitary toilets is to ensure our personal and public toilets are kept clean at all times. With the use of a bidet like the Coway BATERI Bidet, it helps prevent any unwanted mess and keeps all washing and cleaning contained in the toilet bowl. Let's change our habit for Malaysia's greater toilet hygiene, so let's LooLoo with Coway!  
Catch Coway LooLoo Bidet Series TV Commercial on our YouTube page and for more information on Coway BATERI Bidet, visit https://www.coway.com.my/.