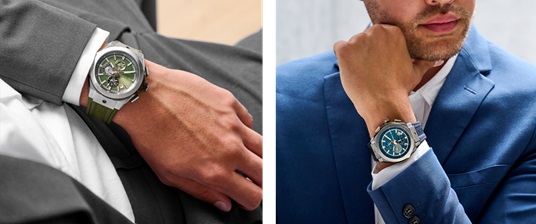 June 2023, Kuala Lumpur – Cerruti 1881's dedication to crafting high-quality products with personality and charm is evident in its latest offering, the Ruscello Men's watch collection. 
The collection currently comes in two core series differentiated by their designs and specifications.
Colours – White with yellow gold accents, Green with rose gold accents, and Green Grey with rose gold accents.

Matching strap with Cerruti 1881 embossed provided.

Colours – Grey with yellow gold accents, Green with yellow gold/white accents, Blue with rose gold accents, Black with rose gold accents, and White with blue/grey accents.

Matching strap with 'Cerruti 1881' embossed and stitching provided.
The functions and specifications among the watches are similar.  However, the key difference between the two series is the layout of the subdials with the former having a 3-6-9 configuration and the latter with the 6-9-12 configuration. 
The case is a combination of flat brushed angles and a prominent round bezel that offers a distinctive look to the watch. The prominent pushers and crown complement this masculine style and makes it easy to operate the watch.  
Both series come in the same dimensions, with 48mm in diameter. They also share the same key features of date, hour, minute and second indication as well as chronograph functionality. These are powered accurately and reliably by a quartz movement inside the watch. 
Cerruti has made the stainless-steel case sufficiently durable to protect the watch with a water resistance rating of up to 50 metres.  Additionally, the vivid details and colours of the case are protected by a tough ion plating process that ensures longevity. 
Completing the watch is the integrated strap which is a perfect match to the dial and the case allowing the Ruscello to sit comfortably on the wrist even with its bold size. This, coupled with the practicality of its silicon construction, makes the Ruscello a great match for everyday activities, in the office or out and about during the weekend.
The word 'Ruscello' means stream in Italian. The watch is aptly named as it represents the stream of creative style that stems from the creative house of Cerruti 1881. Cerruti 1881's watch and jewelry collections embody sophisticated elegance and contemporary energy,  appealing to men and women who appreciate urban chic style. 
Cerruti 1881, founded by Nino Cerruti in Paris in 1967, epitomizes the spirit of the times, offering a contemporary style for the modern man. With a distinctive blend of bold nonchalance and Parisian je-ne sais-quoi, the brand has garnered global acclaim. By combining innovation, craftsmanship, and limitless creativity, Cerruti 1881 challenges traditional dress codes, revolutionizing the world of couture and pioneering the concept of "gentle masculinity". 
Cerruti 1881 Timepieces are now proudly available at Cerruti 1881  Timepieces boutiques, Solar Time boutiques, www.solartime.com and selected watch retailers nationwide. The retail price for this product varies between RM1,499 and RM1,759. 
For media inquiries, please contact: 
• Delyn Teoh :delyn@chafyst.com