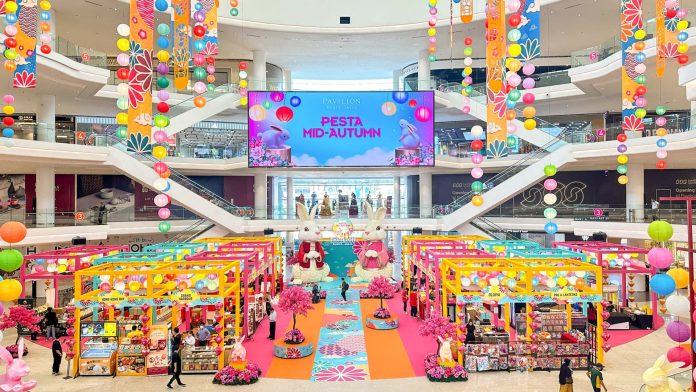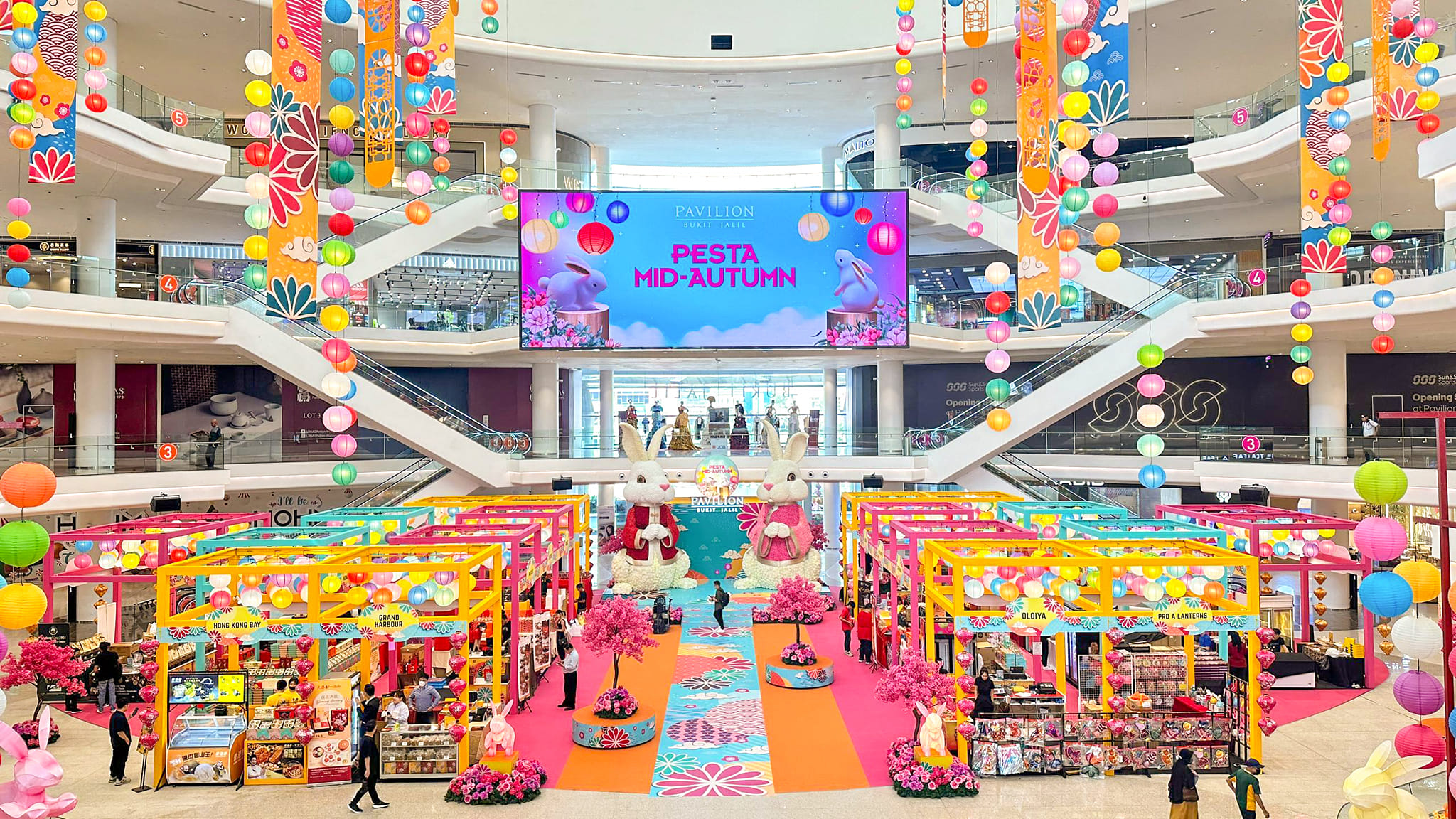 With the mid-autumn festival fast approaching, we know it can be a bit of a rush to find the most unique and interesting mooncakes as a gift for your friends and family. But if you're still on the lookout, then fret not, because Pavilion Bukit Jalil is bringing the community together with their Mooncake Fair happening from 8 September to 1 October 2023 featuring their most inclusive selection yet with over 20 muslim-friendly, halal, and non-halal options to choose from. 
Unforgettable gifts for your loved ones 
Looking for a gift box with a personal touch? At Wishful Gifting you can include a message with your mooncake gift box which comes with blooming flower scented tea, a ceramic saucer, an unscented tealight candle, and a reusable paper lantern! Alternatively, COFFEEPII's delightful assortment of mooncake gift box sets will delight your guests with one-of-a-kind chewable coffee candies, including cappuccino and mocha flavours, while Casahana's exclusive premium gift sets boast exciting mooncake flavours such as the sweet toffee butterscotch to the savoury sakura shrimp sambal alongside the classic pure lotus mooncakes to tie it all together. 
If you're hoping to add some Disney magic to this mid-autumn festival, check out  Mew Market's artfully designed mooncake boxes featuring classic Disney characters like Mickey and Minnie Mouse alongside Donald and Daisy Duck! For those looking for something a little more classic, Oversea's baked collection, lava mooncake collection, and premium gift sets will take you and our loved ones on a thrilling and flavourful adventure.
If you're looking for something to share with the office team, check out the stunning mooncake gift box from Hong Kong Bay by Jynns! Their corporate gift sets are thoughtfully crafted with beautiful packaging design and an array of exquisite mooncakes, featuring flavours like rose lychee with honey lava and Hokkaido matcha.

Unique flavours for everyone
Looking for a variety to cater to everyone's tastes? Tai Thong has got your back with their wide range of mooncakes, including a snow skin series, baked skin Series, and flavours such as blueberry, honey, lemon and cendol with white coconut. 
Introducing a tea-rrific line of flavours, JDX brings you their collection of mooncakes that will perfectly complement your Mid-Autumn visits. Share a bite of specialty mooncakes like chrysanthemum Pu'er and oolong pomegranate along with an assortment of nuts and teas to create a memorable afternoon with your guests.
Meanwhile, the exceptional 3D Mooncake from Baked by La Petite is unlike anything you've seen before! Catering to Malaysian taste buds, their traditional layer cakes are baked into a classic mooncake mould, making it not only delicious but also a sight to behold.
Offering a large selection of mooncakes, including low-sugar options, Imperial Patisserie promises a remarkable experience to your very last bite with their 2023 Mooncake Collection, alongside the announcement of the Hong Kong superstar, Louis Koo, as their spokesperson. Meanwhile, Mizicor's outstanding mooncake gift selections, featuring their fruity and tea series! With flavours such as mango passion, premium Musang King durian, uji matcha, and avocado coconut, there's definitely something for everyone to enjoy.
Indulge in the artistry of handmade mooncakes with every bite of Palace 8's delicacies. Featuring options like the palace golden phoenix and palace jade single yolk, these handcrafted mooncakes are delicious and made with love, passion, and creativity.
Durian galore!
If you know someone who is a kaki durian, then Durian Baby & Friends' ​​Blackthorn & Musang King durian snow skin premium gift box might just be the perfect gift for them. Alternatively, Duria brings its Musang King snow skin mooncake and bamboo charcoal Blackthorn Musang King snow skin mooncake to this year's Mid-Autumn Festival celebrations as well with the latest 'Souled Out' collection. With fillings made of 100% durian flesh, you'll be in for an intense durian mooncake experience.
For some family fun, DKING in collaboration with Dissy Low, is bringing back the much-anticipated return of its limited-edition mooncake game box. Enjoy quality time together while snacking on mooncakes filled with rich and creamy Musang King durian, and a delectable assortment of fruity mochi flavours!
Non-halal treats
Handmade with care and baked with love, Grand Harbour's mooncakes are baked from scratch using only the finest ingredients. Taste the difference in each bite as you mix and match from 10 of their artisanal mooncake flavours such as Supreme Nuts with Yam and White Lotus Single Yolk in their Blooming Mooncake gift box.
Featuring salted egg bakkwa and duck teochew bakkwa, Oloiya puts a spin on the Mid-Autumn festivities with their Hup Ga Foon mooncake bundles. These must-try delights also come with your choice of pork or chicken floss to further enhance your celebrations!
The gift of health and style
Looking for a gift that expresses care and promotes health? Look no further than Herbal Farmer. They offer a wide array of nutritious snacks, revitalising herbal soups, and carefully curated supplement series such as their signature Qianli Mingmu Tea, a blend that supports eyesight and relieves eye strain. Elevate your art of gifting by presenting not only snacks but also a journey towards a vibrant, nourished life!
Delight your loved ones with Yuniku's exclusive handmade bag collection. These bags embody the Japanese spirit of uniqueness where you have the freedom to choose your desired size, design, and fabric – the skilled crafters will meticulously create your handmade bag from scratch and cater to your preferences.
For your lacto-ovo vegetarian friends and family, Hoong Yuung presents an alternative for the festive season. Their sweet taro puffs are deep fried to perfection and delicately handmade to create the beautiful flaky layers in the pastries. Take a bite into a mix of the puff pastry's flakiness and the smooth yam filling that's just the right amount of sweet!
Your mid-autumn celebrations would be incomplete without some beautiful brightly-lit lanterns. Pro Sinar offers a wide range of interesting lanterns with various themes, colours and sizes so don't forget to grab one on your way out! 
It's time for celebration!
Create fond new memories with friends and family at Pavilion Bukit Jalil's Mid Autumn Marketplace, happening from 22 to 24 September 2023 at PIAZZA, Level 3. Enjoy up to 60 exciting booths from a wide variety of mooncakes, exciting fashion, festive fragrances, furniture and more. Don't miss the illuminating Lantern Parade on 23 September 2023 with live entertainment including a 24 Festive Drum performance by Touching Lives Club and a saxophone performance by Deciso Conservatoire.
Spend and redeem wonderful Pesta Mid-Autumn Gifts from now until 24 September 2023 including a Chinese tea pack, colourful animal-shaped lantern, or two Lily fish in a tank when you spend RM100, RM300, or RM500 in a single receipt respectively.
*Receipts from Mooncake Fair at Centre Court, Parkson, The Food Merchant, Pavilion Bukit Jalil Exhibition Centre, car wash, money changer, banking, ATM transactions, utilities and deposit payment, purchase of cash or shopping vouchers, guest check, and preliminary receipts are not eligible.