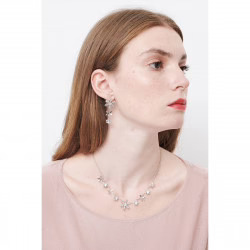 Are princesses, flying carpets, and superheroes your thing? Do you know all the Disney songs by heart? If you're a Disney fan, take a page from the Disney playbook and inject a bit of magic into your Christmas this year!
In line with the 'Disney 100 Years of Wonder' celebration to mark its 100th anniversary, Pavilion KL is launching its 'Season of Wonder' Disney Village in the Centre Court. Be inspired by the spectacular display of Disney over the years when you do your Christmas shopping this year – what better way to celebrate the festive season than with a touch of Disney magic!
Here's our pick of the 8 best Disney-themed gifts you can find at Pavilion KL this holiday season to make your loved ones feel a part of their favourite Disney movie.
Let it SPARKLE
Ever since Frozen took over the world, it's been impossible to Let It Go! And you will never want to let go of these stunning Snowflake Necklace and Earrings from Les Néréides Paris – a perfect jewellery set for this Christmas season and a great gift for any Frozen fan.
Location: Les Néréides Paris, Level 4, Pavilion KL
Bibbidi-bobbidi-boo!
When the Fairy Godmother sang this magic song, she transformed Cinderella's torn outfit into a stunning gown, paired with a beautiful pair of glass slippers. If you're inspired by all things Cinderella to transform your look, then head over to Pazzion and check out their beautiful Silver Skylar Embellished Heels and Silver Pearl Diamante Embellished Pointed Heels! These glistening pumps are perfect to wear on your next big night out – or if you want some extra dazzle, Jimmy Choo's Cinderella line shoes are simply head-turning, layered in blinding Swarovski crystals for you to live your Disney princess moment!
Location: Pazzion, Level 3 & Jimmy Choo, Level 2, Pavilion KL
Love the coat, darling!
Cruella De Vil is one of the most fabulously stylish villainesses of all time, strutting confidently with her sky-high heels, body-hugging dress layered with a statement coat. Her style and fashion choices are definitely one for the books (minus the need for 101 Dalmations…)!
Take a page from Cruella's fabulous coat with a modern faux shearling jacket from COS. Add a modern touch in the form of an oversized jacket or hoodie – perfect for the Disney fashionista!
Location: COS, Level 2 & 3, Pavilion KL
Love is in the hair!
Luscious, long, and healthy locks are everyone's dream! Gift your loved ones a princess makeover with unparalleled five-star haircuts and treatments at Hairquarters!
Whether you are looking for a bold makeover or a sleek professional look, the magical touch from these hair experts can transform your tresses to be as tangle-free as Rapunzel's and as beautiful as Ariel's! Get ready to sleigh the holiday party circuit!
Location: Hairquarters, Level 6, Pavilion KL
Time to hit… the kitchen!
Are you a fan of Rapunzel's frying pan skills in the movie Tangled? Although her frying pan was primarily used as a weapon, it probably makes a better gift for your cuisine-loving friend or family member!
Zwilling J.A. Henckels has been crafting cutlery in Solingen, Germany, home of the world's finest makers of swords, knives and scissors. It comes as no surprise that they have some of the best cookware – from their PICO Frying Pan, to TWIN Nova Wokpan. The cookware is the perfect complement to your everyday cooking tasks (and it could also act as a self-defence tool when you're in a pickle!) 
Location: Zwilling J.A. Henckels, Level 6, Pavilion KL
"It's always tea time!"
Can you have more tea, if you've had nothing yet? The Mad Hatter says you can always take more than nothing, so let's fill up that tea cup, shall we? Grab the perfect tea cup set from Objects! Check out the Timo Tea Cup and Finch Tea Cup, which are both handmade, giving each cup its unique, handcrafted touch – perfect for throwing your own tea parties! 
Location: Objects, Level 6, Pavilion KL
Pillows fit for a Sleeping Beauty!
While Aurora pricked her finger on the spindle of a spinning wheel and fell into a deep, enchanted sleep, you too will be lulled to sleep with these amazing pillows from TEMPUR! After all, sleep is essential for the wellness of your mind, body, and soul.
While the perfect pillow may vary from person to person, the key to the perfect pillow lies in getting the right design to support your sleeping position. If you sleep hot, get the TEMPUR-Cloud Breeze Dual Cooling with cooling gel on both sides of the pillow to help you stay cool. If you need extra support, go for TEMPUR-Neck with its contoured shape to perfectly fit the curve of your head, neck and shoulders.
Location: TEMPUR, Level 6, Pavilion KL
"Good food is like music you can taste, colour you can smell"
Chef Gusteau in Disney's Ratatouille said "there is excellence all around you – you need only be aware to stop and savour it" – and we couldn't agree more when it comes to delicious ingredients and mouthwatering food.
No festive celebration is complete without good food, so bring your loved ones for a special Christmas dinner at D Empire, a fine dining restaurant that specialises in European cuisine in a sophisticated setting.
Be sure to try their Signature Dry Aged Beef – the tender and buttery steak will melt in your mouth and envelope your taste buds with an intense beefy flavour. Don't forget to also try their Stuffed Escargots Bourguignon and Cream Marinara as an accompaniment, and cap off your meal with the heavenly Hazelnut Truffle. We are sure Remy would approve!
Location: D Empire, Level 6, Pavilion KL