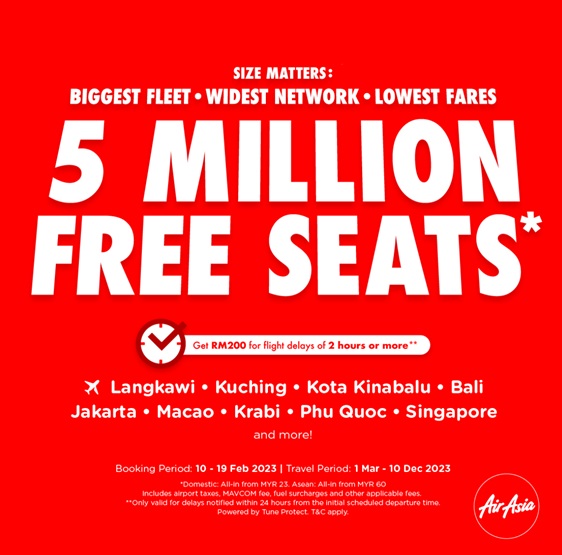 SEPANG, 16 February 2023 – AirAsia's first FREE* Seats Campaign for the year launched last Friday, aimed at further revilatlising the travel and tourism industry in Asean, has proven  to be one of its BIGGEST hits yet, with a whopping 1.2 million seats sold across both short haul and long haul flights in less than a week.
There are still almost 4 million seats available for those eager to venture out, exclusively on the airasia Super App and website, until this Sunday for travel between 1 March 2023 and 10 December 2023. Guests can simply click on the 'Flights' icon on the airasia Super App or website.
The FREE* Seats Campaign, launched by Dato' Sri Tiong King Sing, Minister of Tourism, Arts & Culture Malaysia (MOTAC), follows AirAsia's pledge to fully support the Ministry in its mission to strengthen Malaysia as a multi-faceted and multi-destination attraction, and boost tourism in the region.
This marks another record-breaking sale for AirAsia, whose 'FREE* Seats Campaign' is much awaited  by the masses in and around Asean. The airline is set to fly 69 million guests annually which will provide a much welcomed boost to the travel sector in Malaysia and Asean.
Tony Fernandes, Chief Executive Officer of Capital A said, "To see AirAsia breaking records and continuing to outdo itself year after year is motivating  for me as we strived so hard to come out of the pandemic stronger than ever ‒ and here we are today with another amazing milestone to celebrate.  It's tremendously uplifting to see such strong demand across Asean destinations and this sale is a true testament that AirAsia is indeed the 'People's Airline'. As the saying goes ‒ size matters! When we say bigger and better, we mean more than just the numbers— from our incredibly low fares, better on-time performance and to our group-wide commitment to providing an enhanced travel experience for millions of our guests, who choose to fly with us each and every time. We aim to be more than just  a 'low cost airline', but one that delivers top notch customer experience  and constantly innovates to listen and meet our guests' needs. You can always count on us to be bigger and better."
Adventure seekers have been snapping up FREE* seats by the minute to their favourite short haul destinations, with the likes of Langkawi and Penang in Malaysia, Phuket and Krabi in Thailand as well as Bali in Indonesia being amongst the most popular choices.
Seats to other AirAsia and AirAsia X destinations which are also on sale now for a steal have also been in strong demand. Starting from RM99*, guests have snapped up thousands of international flights to Chennai, Kolkata, Hong Kong and the Maldives ‒ and to mid-long haul destinations such as Taipei, Seoul, Perth, Melbourne at as low as RM329*.
To further strengthen its commitment to offer better flying experience for its guests, AirAsia also launched an industry-first Flight Delay Insurance* powered by Tune Protect.  It offers a one-off payment of RM200 if the flight is delayed for a minimum of two hours from the originally scheduled departure time or any new departure time. It is now available for FREE to all guests who book their flights from 10 to 19 February 2023 for the travel period between 1 March 2023 and 10 December 2023. The insurance will be available for purchase starting 20 February 2023 from RM10 (one way) or RM14 (return) on the airasia Super App and the website. AirAsia has also partnered with BigPay exclusively to provide automatic claims credited to the BigPay user's account within three (3) working days for guests who received the complimentary Flight Delay Insurance*.
Stay up to date on the latest in flights, travel, lifestyle and more following @flyairasia on Instagram/Facebook or @airasia on WeChat/Weibo for the latest updates.  For a seamless and enhanced experience, download your airasia Super App from the Apple App Store, Google Play Store, or Huawei AppGallery.