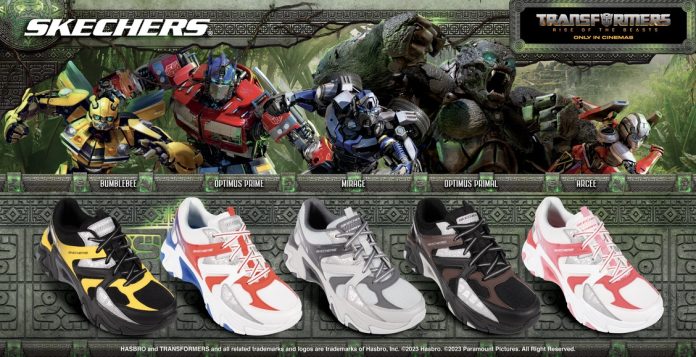 The new Skechers X Transformers collection enables a full range of looks,
featuring the larger-than-life robots and beasts universe with Skechers range of footwear, apparel and accessories
Kuala Lumpur, 7 June 2023 – To all the men, women, and children on a mission, this is your opportunity to dress the part! Skechers, The Comfort Technology Company™ and a global leader in lifestyle and performance footwear, is proud to launch the highly anticipated Skechers X Transformers: Rise of the Beasts collection, in partnership with Hasbro, a global leader in play. Available online and in selected Skechers concept stores from 8 June, the new collection features stylish footwear, as well as a full apparel collection of tops, bottoms, jackets and accessories like socks, caps and bags.
Get ready to traverse into the world of giant robots and amazing beasts ahead of the upcoming release for the new Transformers: Rise of the Beasts movie, with new footwear styles, apparel and accessories inspired by the striking colours of Arcee, Bumblebee, Mirage, Optimus Prime and the leader of the Maximals, Optimus Primal.
Psst – Keep a look out for an upcoming launch of Skechers Foamies Arch Fit Horizon as Skechers is set to elevate its newest range of comfortable slides with bold new designs decked up in true Transformer style! Featuring Skechers widely recognised comfort footwear technology, the new Skechers Foamies Arch Fit Horizon collection will be available starting from August in four colourways each for men and women.
Roll Out In Comfortable, Stylish Footwear
For adults, the athletic Skechers Stamina V3 (RM499) style comes in five new footwear designs. Featuring repeated silver metallic debossed print of Transformers faction icons on the shoe's outer layer, the eye-catching designs are inspired by each of the iconic Autobots character:
⦁ Arcee – Like Arcee, the elite sharpshooter, never miss the style target in this white-red-pink iteration as you move with agility and speed.
⦁ Bumblebee – The bold contrast of black and yellow colours mimics the paint scheme of Bumblebee, known for its determination, bravery and luck.
⦁ Mirage – Stay cool, calm and casual in this pair of grey-on-grey kicks that depicts Mirage's fun-loving, dynamic character with high standards in life.
⦁ Optimus Primal – The highly-anticipated Optimus Primal's appearance in live-action, for the first time, is translated into a black-brown pair that personifies his gorilla-themed beast and his more traditional Transformers robot mode.
⦁ Optimus Prime – The colours of freedom, white-red-and-blue, portray the leadership quality and heroic nature of Optimus Prime, with this design.
Built with Air-Cooled Memory Foam® cushioned insole; shock-absorbing cushioned midsole and flexible traction outsole, the new Skechers Stamina V3 keep the feet in superior comfort as one embarks on any "mission" of the day or night.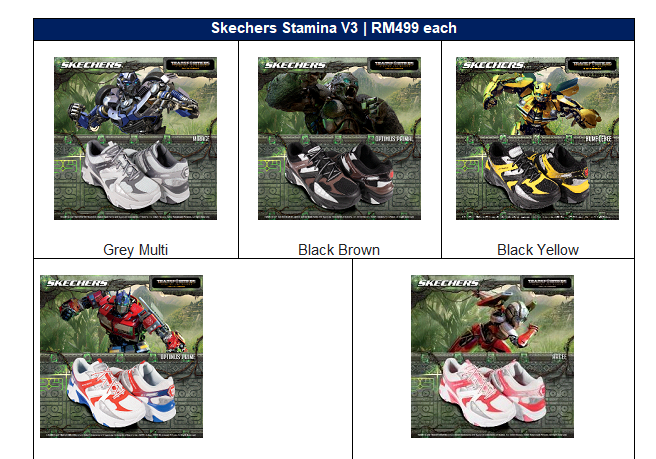 With an array of options for kids, choose from the four designs of Skechers Foamies (RM179) in the clogs style or three designs of the lifestyle footwear Skechers Stamina V2 (RM299).
The light-up clogs with convertible heel straps and perforated accents blink with every step, adding vibrancy to the blue, yellow, red or black designs, and further reminds us of the intergalactic nature of the Transformers. Other features include:
⦁ Sculpted Foamies® EVA lightweight flexible upper
⦁ Cushioned footbed in water friendly design
⦁ Light-up clog with convertible strap and vented accents
⦁ Flexible traction outsole
⦁ Machine washable
The designs of the sports shoes, on the other hand, lean towards darker tones of black-taupe, black-yellow and white-multi, and offer matching designs with its adult Skechers Stamina V3 counterpart. In addition to Skechers proprietary Air-Cooled Memory Foam® cushioned comfort insole, features of the Stamina V2 footwear include:
⦁ Skechers Air-Cooled Memory Foam®
⦁ Synthetic and mesh upper with a lace-up front
⦁ Athletic casual sneaker design
⦁ Shock-absorbing cushioned midsole
⦁ Flexible rubber traction outsole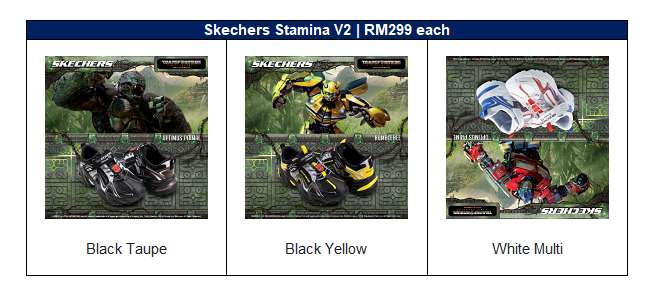 Transformers Beasts Mode
Transformers characters take on a new shape with latest apparel and accessories in the new Skechers X Transformers: Rise of the Beasts collection. With stylish designs that is "more than meets the eye", the collection features a range of apparel for adults and kids, including casual tees, jackets and shorts, as well as accessories like waist, shoulder and tote bags, crew socks and baseball caps to complete the look.
Available in three colours ranging from the classics of black and white to striking royal blue and canary yellow, each design for adults features Transformers motifs and characters.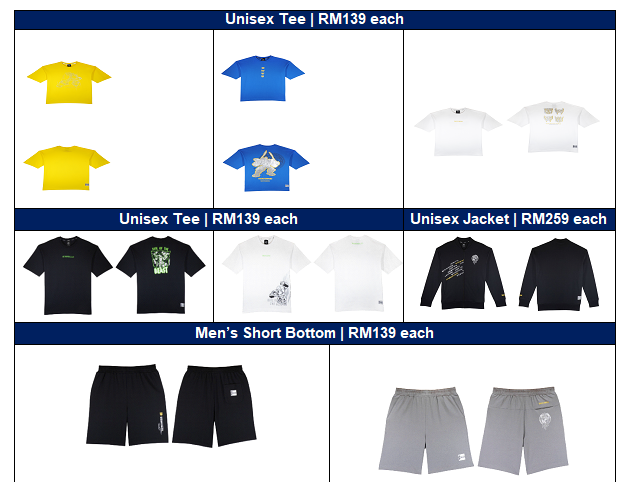 Meanwhile, the kids apparel also sees five design additions for its short sleeve tees, in a slightly different range of vibrant colours with red and blue variants, and includes graphics with Transformers characters, while maintaining striking Transformers characters in its designs.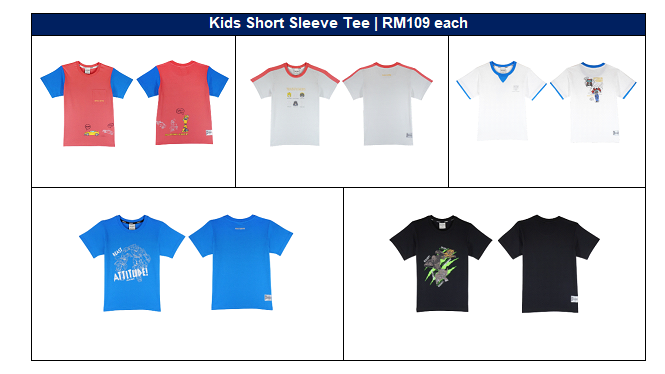 For bottoms, one design each for the short pants and capri pants respectively feature discreet texts in place of character designs. As with the adult collection, each design comes in two variants of fabric colours.
Accessories – Unisex Bags & Crew Socks
Expanding the collection into accessories, three types of unisex bags are available across two colours – waist, shoulder and tote bags, each available in either black or grey.
In addition, two variants of crew socks round up this holistic collection, delivering comfort and style for the anyone ready to take on a mission!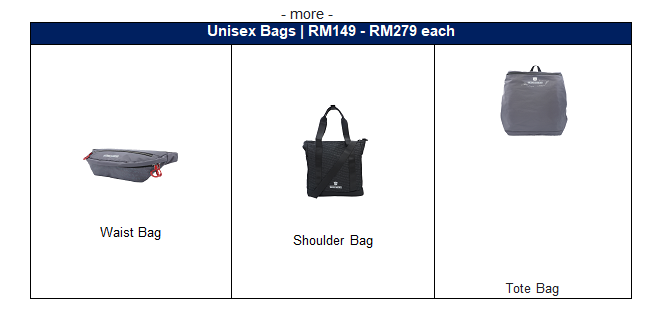 Featuring a glow-in-the-dark effect on a black backdrop, consumers can receive an exclusive Skechers X Transformers tumbler with any two items purchased from the collection.
Available for a limited time only, each redemption is limited to one quantity per receipt, while stock lasts.
Launching online via Shopee, the new Skechers X Transformers: Rise of the Beasts collection will also be available via Skechers.com.my and in-stores from 8 June 2023 at the following Skechers concept stores: Pavilion Bukit Jalil, Pavilion Kuala Lumpur, Mitsui Shopping Park Lalaport BBCC, Suria KLCC, 1 Utama Shopping Centre, Sunway Pyramid and more.
Press Assets of the Skechers X Transformers collection can be accessed here:
https://bit.ly/SkechersxTransformers_2023
@skechersmalaysia #SkechersXTransformers #SkechersMY