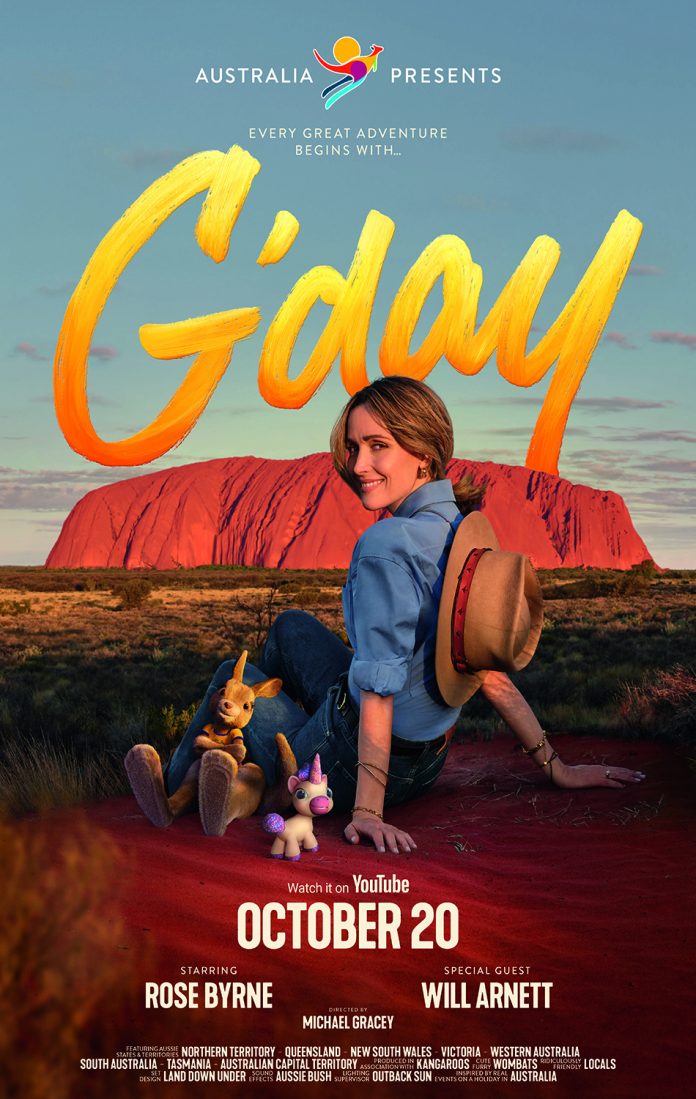 Starring Rose Byrne and Will Arnett, G'day will debut online 20 October
Malaysia, 20 October 2022 – Tourism Australia has created a live-action short film with CGI animated  characters. The short film, G'day, debuts today, and is part of a new global tourism campaign inviting  international travellers to Come and Say G'day, and plan and book an Australian adventure of their  own.  
Directed by acclaimed Australian director, Michael Gracey (The Greatest Showman), G'day the short  film shows the unlikely adventure of a plush souvenir kangaroo named Ruby, voiced by beloved  Australian actor Rose Byrne, and a toy unicorn, Louie, voiced by actor Will Arnett. 
The short film follows Ruby and Louie as they 'break out' of a gift shop on the Great Barrier Reef and  take an incredible adventure around Australia, visiting iconic sites including Sydney Harbour,  Melbourne's laneways, and stunning natural landscapes like Uluṟu and Nitmiluk Gorge. Along the way,  they explore the magnitude of travel experiences Australia has to offer, connect with Australia's  Indigenous cultures, and learn why every great adventure starts with the unmistakably Aussie  greeting, "G'day!". 
Rose Byrne in her new role as Tourism Australia's Global Ambassador and the voice of Ruby, said,  "Having the opportunity to voice Ruby was such an honour – she's a representative for what it means  to be an Aussie – she is warm, welcoming, but also endlessly curious and seeing Australia for the first  time. I'm so excited to be able to help welcome travellers to our beautiful country."  

Speaking about his involvement in the short film, Director Michael Gracey said, "When I first read the  script for G'day, I thought it was the most brilliant concept; a kangaroo souvenir, who has never been  outside her box – let alone outside the store – faced with her one opportunity to see Australia, with  the help of a little unicorn. It's an uplifting adventure story of two buddies, against the stunning  backdrop of Australia's landscapes." 

"The thing I've enjoyed the most is the incredibly talented people – from the musicians to the  animation, to the character designs, to the talent, and the shoot. It's been such an adventure putting  it all together, and I am really proud of it." 
Actor Will Arnett, who is known around the world for his voice over work said, "Having been to  Australia a few times, the main takeaway is that I adore everything about Australia and Australians;  the welcoming characters you meet who instantly become your mate, the opportunity for adventure  in one of the most visually stunning places in the world – I think the film does a brilliant job of showcasing all of this, and I'm really happy to have played a part in inspiring the world to see it for  themselves."
Tourism Australia Managing Director, Phillipa Harrison, said, "Come and Say G'day is unashamedly and  unmistakably Australian. After a challenging time around the world, our uplifting and joyful campaign  will stand out in what is a highly competitive international tourism market." 
Australia's Indigenous cultures and peoples are at the heart of the story in G'day, and their warmth  can be felt throughout. The musical score, written by Australian composers Jonathan Dreyfus and Amy  Andersen, features legendary Indigenous Australian musicians including William Barton, Frank  Yamma, the Marliya Gondwana Indigenous Girls Choir and Iwiri Choir. Notably, viewers will note a  fresh new cover of the classic Aussie song Down Under, which was produced in collaboration with  Men At Work's Colin Hay for the campaign and film.
Ms Harrison, concluded, "Another hero of the campaign is the remake of the Australian classic song  Down Under by up-and-coming Australian band King Stingray, who sing in both English and Yolŋu  Matha, an Indigenous language from northeast Arnhem Land in the Northern Territory." 
Tourism Australia Regional General Manager, South & South East Asia (SSEA), Brent Anderson, said  G'day marks an exciting new chapter in telling the story of Australia to the world. 
"The South and Southeast Asian (SSEA) markets have been critical to Australia's recovery this year,  and I'm really excited to reveal our new campaign to inspire even more regional visitors to explore  Australia. We know that travellers from this region are looking to holiday in destinations that feel  familiar and welcoming, and offer a chance to explore new cities, landscapes and culture.  
Through Ruby and Louie's adventures, we invite travellers to Come and Say G'day – where they can  build new authentic connections with friendly Australian locals and communities, our incredible  nature, wildlife, islands and beaches, and enjoy our delicious food and drink." 
G'day will launch Thursday 20 October 2022 on YouTube and australia.com/gday at 4:00AM, Malaysia time.