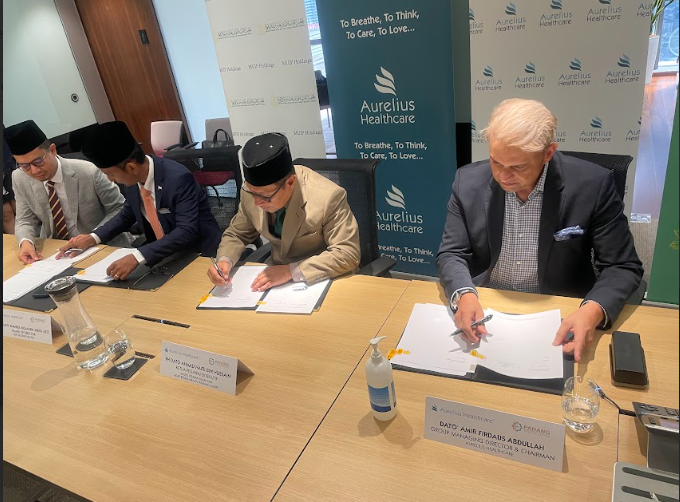 KUALA LUMPUR, MALAYSIA, 27 JUNE 2023 – Aurelius Healthcare Sdn Bhd (Aurelius Healthcare), a healthcare group that aspires to be the leading healthcare platform in Southeast Asia, is pleased to announce its third partnership, a majority stake in Pahang Medical Centre (PMC), post its acquisition of hospitals in Nilai, Negeri Sembilan and Alor Setar, Kedah in 2021 and 2022 respectively.
The new partnership, which will be rebranded from PMC to Aurelius Hospital Pahang in the coming months, is aligned with Aurelius Healthcare's objectives for its group's growth on the East Coast. With patient care as a key priority, it will also be instrumental in strengthening the medical services to patients in the region.
Founder and Group Managing Director of Aurelius Healthcare, Dato' Amir Firdaus Abdullah, stated, "We are proud to announce our continued growth with the partnership of this hospital. PMC is strategically located, and its position to serve the Pahang community will be further strengthened by the support of a dedicated group of doctors and healthcare professionals".

"The 64-bed hospital shall be transformed into a tertiary hospital with 150 beds, and we will be placing greater emphasis on cancer care, which comes under our clinical oncology arm. Additionally, we shall grow a Centre of Excellence in Women & Children, Orthopaedics, minimally invasive Surgical disciplines, Cardiology and eventually Neurosciences. Through this transformation, we aim that the patients, clinicians, employees, partners and communities we serve have a greater experience and receive desired clinical outcomes," added Dato' Amir.

 "This partnership is one of many in our journey to diversify Aurelius Healthcare's portfolio and is key in paving the way for Aurelius Healthcare to further develop healthcare services in Pahang," said Dato' Sri Nicholas Bloy, Co-Managing Partner, Navis Capital Partners.

"I'm delighted by our partnership with Aurelius Healthcare as it will mark a new beginning for the community and propel us to expand our medical services to include more specialists and healthcare professionals to cater to the needs of patients within the region," said Dato' Shahrul Nizam bin Abdul Aziz, Chairman Board of Directors, PMC.

Dato' Ahmad Hairi bin Hussain, Chief Executive Officer of Majlis Ugama Islam dan Adat Resam Melayu Pahang (MUIP), expressed his enthusiasm for the partnership between MUIP and Aurelius Healthcare, stating, "We are thrilled to join forces with Aurelius Healthcare, a reputable partner in the healthcare industry, to serve the people of Pahang and other East Coast states of Malaysia. While MUIP has also ventured into plantations, hospitality and retail businesses, this partnership will enable us to expand our services and contribute to the healthcare needs of our community. We also share a vision of corporate social responsibility (CSR), and together we aim to undertake CSR activities for the benefit of underprivileged individuals and families in need. This partnership represents a significant milestone in our journey, and we look forward to its positive impact on the well-being of the people we serve".
YAM Tengku Panglima Raja Kol. Tengku Amir Nasser Ibrahim Shah Ibni Al-Sultan Abdullah Ri'ayatuddin Al-Mustafa Billah Shah, SSAP., SIMP., Timbalan Yang DiPertua MUIP & Chairman of MUIP Holdings Group of Companies stated,
"With this collaboration, we hope to enhance patient care and experience by providing quality integrated services. We look forward to our journey together with Aurelius Healthcare".
The collaboration is aimed to commence in the second half of 2023.