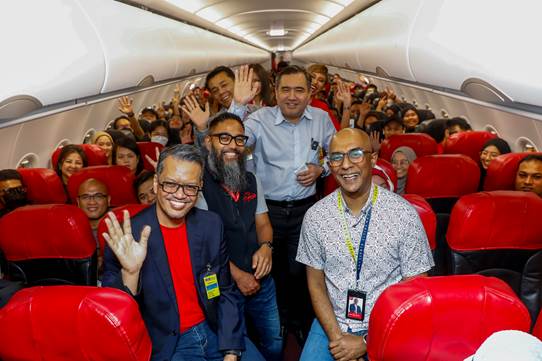 SEPANG, 21 April 2023 – AirAsia celebrated the upcoming Hari Raya with a momentous send off together with YB Anthony Loke, Minister of Transport Malaysia for guests flying the special extra flights at fixed low fares departing from Kuala Lumpur to Tawau, Sabah at 10.15pm and Miri, Sarawak at 10.55pm, respectively yesterday.
The flights recorded 100% load factor and guests on board flight AK9746 to Tawau and AK9644 to Miri were celebrated with grandeur at Kuala Lumpur International Airport (KLIA) (Terminal 2). The event was also attended by Bo Lingam, Group CEO of AirAsia Aviation Group, Riad Asmat, AirAsia Malaysia CEO and Mohammad Hafidz, airasia Superapp Acting CEO.
The special extra flights at fixed low fares for Hari Raya initiative was launched by the Minister on 7 March 2023, offering a total of 22,464 extra seats from Kuala Lumpur and Johor Bahru to 11 destinations in East Malaysia for RM199 to Sarawak and RM249 to Sabah all-in* one way.
Minister of Transport, YB Anthony Loke said: "We are pleased to have facilitated the people's balik kampung journey through AirAsia's fixed fare flights launched last month, which has enabled more than 20,000 Malaysians including the passengers I am sending off tonight, to fly home at RM199 to Sarawak and RM249 to Sabah.

"The Ministry has proactively worked with stakeholders since early March as well as encouraged and facilitated extra flights, resulting in 43 percent more additional flights compared to last year. I'm glad that all major airlines including AirAsia have cooperated in maximising their capacity which were quickly taken up."

AirAsia Malaysia CEO, Riad Asmat said: "We are excited to send off full flights to Sabah and Sarawak tonight as part of our 124 special flights at fixed fares, which were mounted to reaffirm our commitment to reuniting our guests with their loved ones during this Hari Raya Aidilfitri celebration.

"Even with our current aircraft and operation limitations as we continue to expand our network, we have worked hard to ensure that the extra fixed fare flights are in operation for the festive season. Furthermore, despite a comparable flight frequency, the average fare for regular flights during the Hari Raya period this year was 10% lower than that in 2022 for RM160 one way. Around 2,400 seats are still available at fixed fares on selected dates up to 30 April for the returning flights, and we hope others will take this opportunity to fly back home at a greater value.

"This initiative would not have been possible without the dedication and hard work of our Allstars from the ground to the air, and for those who are working during this festive season, thank you for your dedication. As for our guests, thank you for flying with AirAsia. Selamat Hari Raya, Maaf Zahir dan Batin."
Guests travelling during the Hari Raya Aidilfitri period are advised to arrive at the airport at least two hours prior to their scheduled departure time (for domestic travel) to avoid expected congestion. Guests are also highly encouraged to self check-in using the airasia Superapp, which is available as early as 14 days up to one hour before the scheduled departure time and use the e-Boarding Pass to board the flight.
For guests with baggage to check-in, the Baggage Drop counters close 60 minutes before flight departure for all AirAsia flights. As congestion is expected at the security scanning, baggage clearance and immigration checkpoints, it is best to complete baggage drop and proceed to the boarding gate as early as possible. For the full travel advisory, please refer here.