Kuala Lumpur, 9 February 2023 – Tokyo, Bangkok, and Singapore are this year's most popular Valentine's Day getaways in Asia, global digital travel platform Agoda revealed. The three Asian capitals are the most searched cities by couples celebrating on February 14th this year. To pay homage to these and other romantic hotspots in the top 14 searched destinations, Agoda commissioned AI-powered chatbot ChatGPT to compose unique poems.
Being the hot new thing, recently introduced chatbot ChatGPT already has millions falling in love with its capabilities. When asked by Agoda to channel its inner artificial intelligence-Shakespeare the chatbot composed lines like 'From Pad Thai to Tom Yum Goong, Bangkok's food is a taste that lingers on' (Bangkok, Thailand), 'With every visit, I'm captured whole, in this gem of India, I find my goal' (Goa, India), and 'Mount Fuji in the distance, a sight to behold. Tokyo, a city that never gets old' (Tokyo, Japan).
Using ChatGPT to compose poetry may be a gimmick, but the artificial intelligence technology powering the chatbot is beyond promising, said Omri Morgenshtern, Chief Executive Officer of Agoda:
"We're all about hassle-free travel at Agoda and a technological leap like this has a lot of potential to further enhance the booking experience on digital travel platforms. We'll be paying close attention as Agoda is already among the frontrunners exploring how technology can be applied in a practical way to help make travel more accessible to all." 
Lovebirds in the Asia Pacific are opting to spend time together in energetic cosmopolitan cities this Valentine's Day, with eight of the top ten destinations being city-based trips. Other destinations where cupid's arrow meets its target include beach destinations like Bali, Goa, Da Nang, and Dubai. For each destination, Agoda asked ChatGPT to pay tribute in the form of a poem, which has then in some cases been translated by the chatbot to the destination's local language.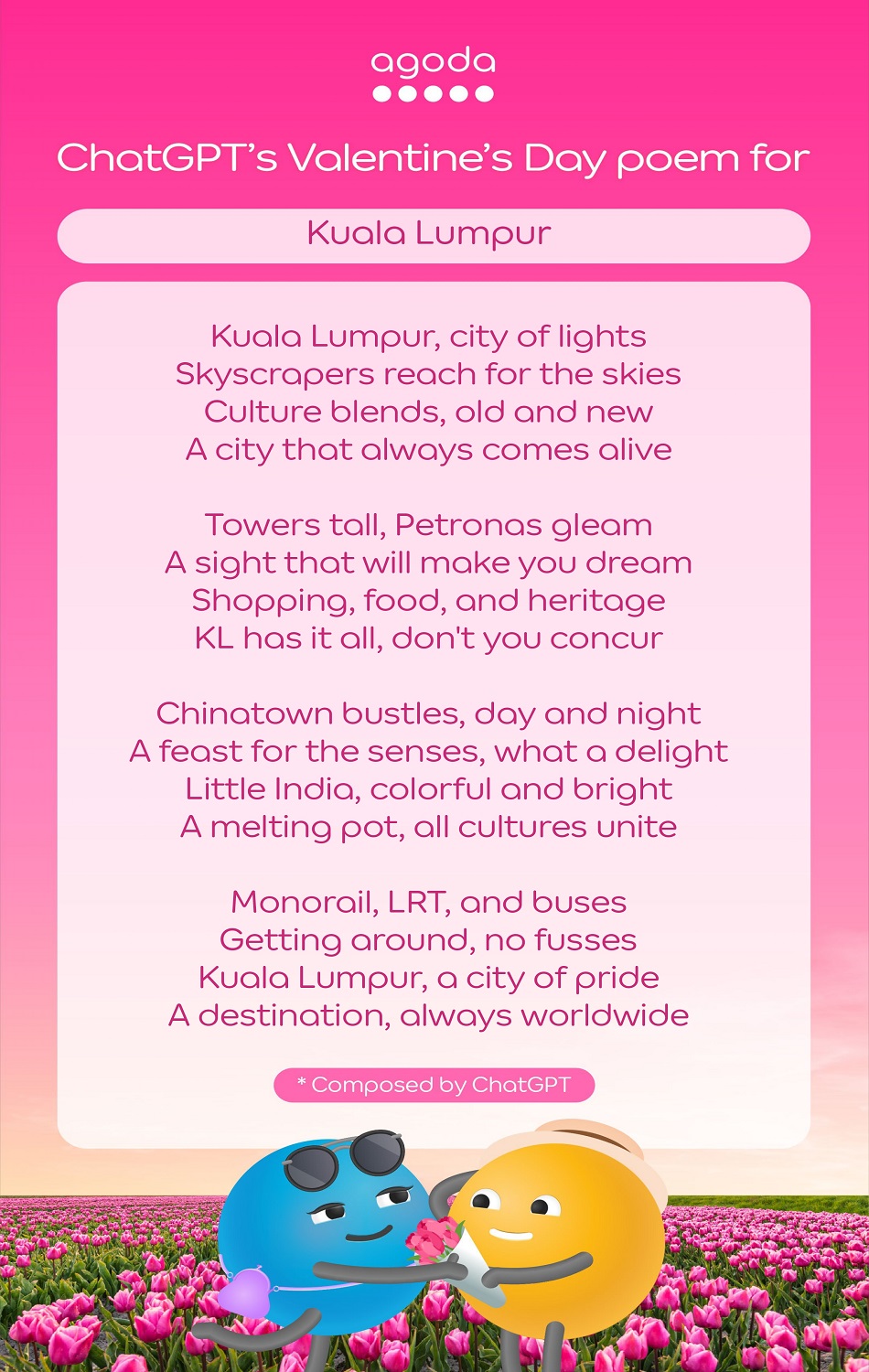 Sweet Serenades for the top 14
Tokyo




'Mount Fuji in the distance, a sight to behold. Tokyo, a city that never gets old'

Bangkok




'From Pad Thai to Tom Yum Goong, Bangkok's food is a taste that lingers on'

Singapore




'The Gardens by the Bay, a wonderland. A nature's beauty, so close at hand'

Bali




'The beaches are a tropical paradise, with waves that gently roll. A place to find true serenity, and leave the world's woes a whole'

Hong Kong




'With dragon dances, dimsum delight, it's a place of endless wonder and might'

Taipei




'Temples ancient, yet revered with care. A glimpse of Taiwan's rich cultural flair'

Seoul




'A place where the past and present cower. A city that's forever in the hour'

Manila




'Manila, city of contrasts, where the old and new coexist. A place of beauty and diversity, where the heart of the Philippines persists'

Kuala Lumpur




'Kuala Lumpur, a city of pride. A destination, always worldwide'

Goa




'With every visit, I'm captured whole, in this gem of India, I find my goal'

Dubai




'With sun-kissed sands and waters so blue, it's the perfect place for me and you'

Macau




'From ruins of St. Paul's to casinos bright, its rich history, on every street in sight'

Da Nang




'Da Nang, city of the sea. Where sun and sand meet endlessly'
London
'We'll take a stroll through Hyde Park's green, and create memories that will always be seen'