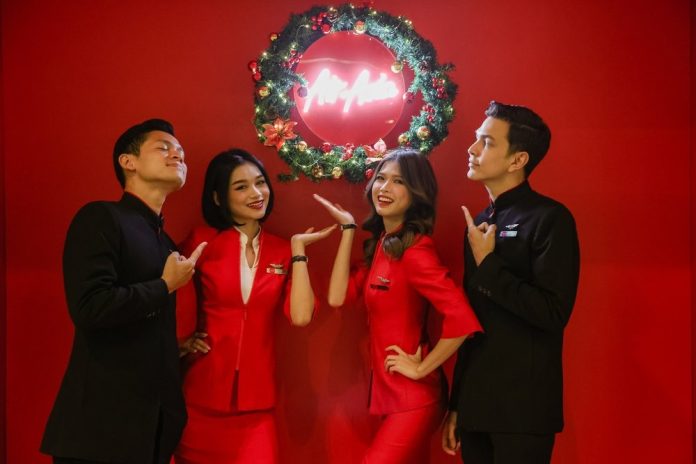 Sleighing all the way: It's always a good time for presents
It's the most magical time of the year indeed! AirAsia dropped major festive cheer this week at klia2 and Changi Airport to a group of unsuspecting passengers ‒ and what a treat it was!
Passengers onboard flights AK527 and AK869 at klia2 on 19 December and flights QZ504, Z2825, AK707 & FD357 at Changi on 23 December had no clue what was awaiting them upon their arrival. In conjunction with the holiday season, AirAsia had planned a sweet gift-giving activation at two of its hubs ‒ Kuala Lumpur and Singapore.
Seeing red: It's Christmastime!
The first of this special surprise took place at klia2, where cutely packed gift boxes comprising AirAsia caps, keychains, stationary, pouches and other cool AirAsia merchandise were neatly placed on the conveyor belts that contained the luggage from the two flights that just arrived from Ho Chi Minh City and Krabi. At first, glances of confusion were exchanged as the passengers had no clue as to what was going on. Soon, murmurs of excitement could be heard as joy filled the air.
Ms Sathya, who had just flown back from her beach vacation in Krabi was thrilled to receive the presents, saying: "I love this surprise – it puts us in an instant Christmas mood! My wish is that 2023 will be a fantastic year for everyone as we bounce back from Covid."
The gift-giving wasn't the only merry sight – the arrival halls at klia2 were decked with Christmas decorations and a festive backdrop for Instagrammable  memories. To make this day even more special, AirAsia's very own Santa Claus paid a visit and made his rounds much to the delight of elated passengers, both the young and young at heart.
A Winter Wonderland
At Terminal 4 in Changi Airport, delighted guests disembarking the four flights at different times throughout the day were greeted with a sight to behold! Santa and his army of elves excitedly greeted the bewildered passengers and handed them a golden ticket each with instructions.
The stunned passengers were invited to head over to AirAsia's Winter Wonderland booth to tuck into some yummy snacks! Scrumptious cookies, cupcakes and muffins as well as an array of exclusive souvenirs and merchandise were awaiting them.
Mr Lee, who had flown from Bali with his family of four, said that his little ones were delighted at the sight of Santa and his elves.
"This just made our holidays more special. Most importantly, our kids had a great time. Thanks, AirAsia!"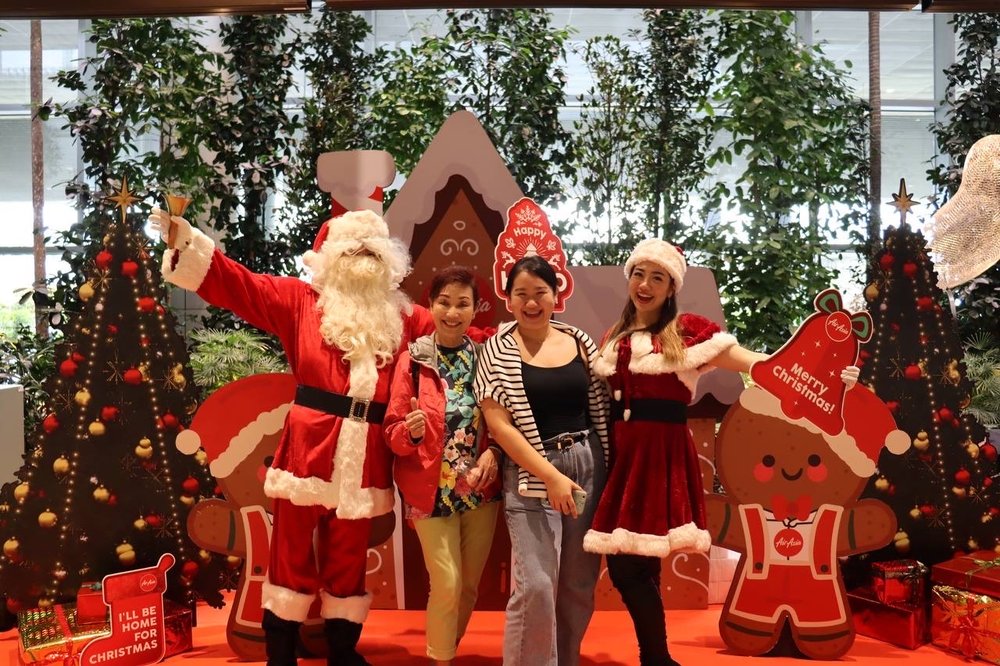 'Tis the season to be sharing. AirAsia's Winter Wonderland booth is open all of today only for the public to enjoy.  Make your way to the arrival hall at Terminal 4 at Changi Airport and experience Christmas in true AirAsia style! This activation was made possible thanks to the support and generosity of Changi Airport Group, Singapore Tourism Board and Singapore Airport Terminal Services.
AirAsia is no stranger to surprises and fun activities. In the last few months, we've not only launched our biggest FREE* seats campaign to date, we've also made history by being the first in Asean to host a full-blown party in the air to celebrate having flown an incredible 700 million passengers.
To kick-off our festive celebration, AirAsia will launch a year-end sale with special prices for a limited time only. Fly from Kuala Lumpur and Singapore to Kota Kinabalu, Bali, Phuket and other exciting destinations from only RM23/SGD67* or  fly a little further with AirAsia X to Taipei, Tokyo, Auckland and much more from just RM459*. You can also soak up some sun in the pristine beaches of Gold Coast from only RM599* or RM3,999* with our premium flatbed seats. Visit the AirAsia website or Super App from 26 December to 8 January 2023 to snap up your getaway deals.
The festive period is always a special time for all of us at AirAsia as we come together to reunite our dearest guests with their loved ones for the holidays. After 21 years (and counting) of connecting amazing people to amazing places, we're only just getting started. To all the passengers who were part of this unforgettable event, thank you for being a part of our story – and see you at the next one!
Have yourself a merry little Christmas! This festive season, we wish all our guests a blessed and joyful celebration – from the AirAsia family to yours. Stay safe, and enjoy the holidays!